Product Description
Motorcycle Part High Quality Timing Chain for Pulsar 135ls
FEATURE:
| | |
| --- | --- |
| OUMURS CODE | 10110401801  |
| Fits For | Pulsar 135ls |
| Package | Specific box |
| Delivery date | 20~30 Working Days |
Other Motorcycle Parts  We Can Offer:
 
Big Engine Brand:
HARLEY DAVIDSON, BMW, DUCATI, KAWASAKI, KTM, TRIUMPH, CFMOTO, SUKADI, HYOSUNG, POLARIS, etc.
Other Motorcycle Brand:
HONDA, YAMAHA, SUZUKI, BAJAJ, KEEWAY, KYMCO, CHINAMFG , TVS,
LONCIN, ZONGSHEN, SHINERY, HangZhou, DAYANG, XIHU (WEST LAKE) DIS.N, XIHU (WEST LAKE) DIS., HAOJIN, HAOJUE, QINGQI, XIHU (WEST LAKE) DIS.,
PIAGGIO, PEUGEOT, VESPA, AKT, AYCO, BERA, DAYTONA, FACTORY, GENESIS, GILERA, MOTOMEL,YUMBO, ZANELLA, etc.
Big Engine Models:
MONSTER, Softail, Dyna, Touring, Sportster, ZX, ZR, ZG, ZZR, GPR, GPZ, NINJIA, VERSYS, DAYTOAN,etc.
Other Motorcycle Models:
AX, ACE, AN, AKT, ARN, AYCO, ARSEN, AVENGER, AGILITY, 
BIZ, BWS, BROS, BEST, BOXER,
CA, CB, CD, CG, CH, CM, CGL,CBF, CBR, CBX, CRF, CRM, CARGO, CUSTOM, CYGNUS,
DS, DL, DR, DUKE, DAKAR, DISCOVER,
EN, FZ16, FT, FLY, FOX, FAZER, FIDDLE, 
GN, GS, GY6, GSF, GSR, GSX, GSXR, 
HORSE, JL, JH, JOG, JET4, JOYLIE,
LOGIC, LIBERO, MP3, MAX, MBK, MOTARD,
NXR,   OWEN, ORBIT, OUTLOOK, 
PCX, PLATINO, PULSAR, QJ,
RX, RTX, RKS, RE Tricycle, ROCKZ,
SV, SH, SMR, SKUA, SPORT, SPEED, SILVERBLADE,
TX, TMAX, TITAN, TYPHOON, VLM, VICTOR,
WY, WAVE, XY, XT, XV, XV, XCD, XRE,
YB,YP, YBR, YZF, YFM, etc.
FAQ:
1. How soon can I get the quotation?
Re: The quotation should be given within 24 hours .
If it is very urgent, pls make direct contact with CHINAMFG sales. 
2. How to get the best price from OUMURS?
Re: The bulk order price can be negotiated.
We will quote the latest best price according to the customer final purchase list.
3.Can I get a sample to check your quality?
Re:  Sure! For most product sample for free, but all other cost need to pay by customer.
Freight will be returned in first order.
4. Can CHINAMFG do the packages as we need?
Re: Sure for bulk order!.
For others, we will offer OUMURS, TWOM or neutral pack for you.
For long term relation, can be negotiated with customized pack
Thx for Reading!
To know more about OUMURS, kindly visit oumurs .
| | |
| --- | --- |
| Type: | Chain |
| Material: | Steel |
| Certification: | ISO9001:2001 |
| Number of Row: | Double Row |
| Market: | South America; Middle America; Mexico; India |
| Transport Package: | Packed by Specific Box |
Samples:

US$ 2.5/Piece

1 Piece(Min.Order)

|
Request Sample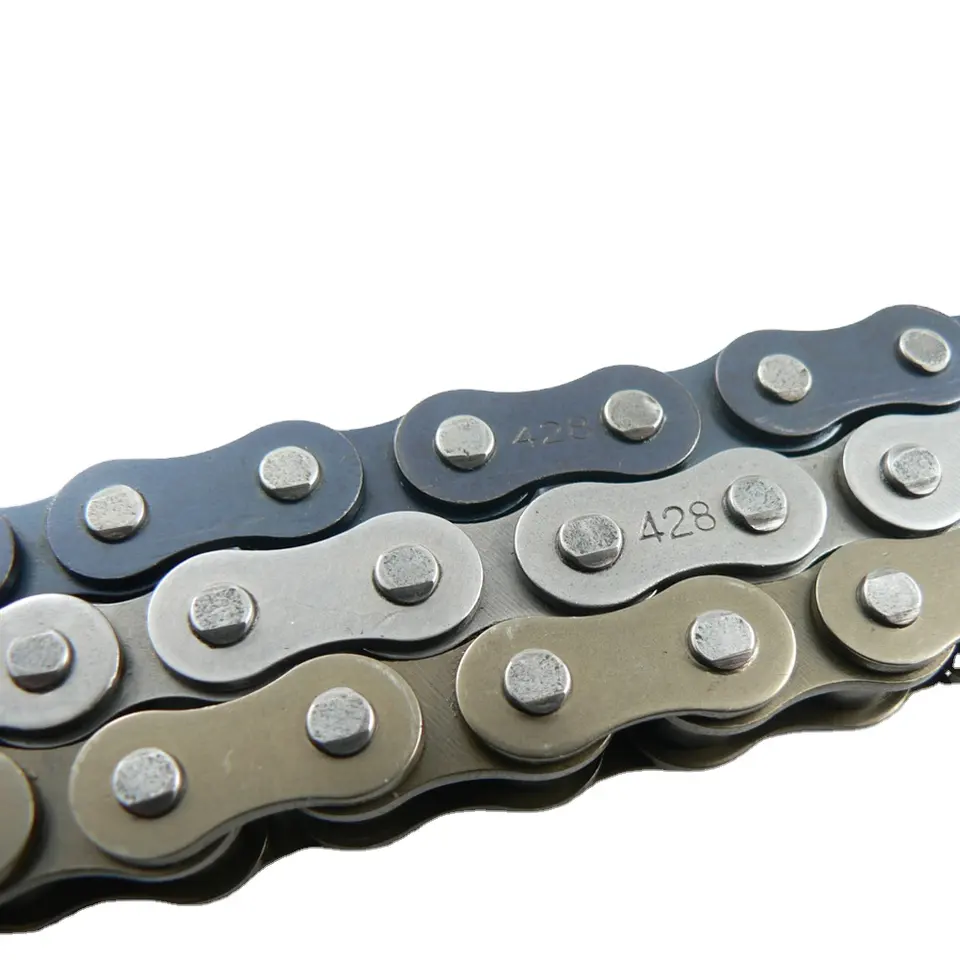 Can a motor chain be used in environments with high temperatures or humidity?
Yes, motor chains can be used in environments with high temperatures or humidity, but certain considerations need to be taken into account.
High Temperatures:
When operating in high-temperature environments, it is important to choose a motor chain that can withstand the elevated temperatures. Special heat-resistant materials, such as heat-treated steel or alloys, are often used for the construction of chains intended for high-temperature applications. These materials have superior heat resistance and can maintain their strength and performance even at elevated temperatures.
In addition to selecting the appropriate chain material, proper lubrication becomes even more critical in high-temperature environments. The lubricant used should have a high temperature rating to ensure adequate lubrication and prevent premature wear. Regular monitoring of the chain's condition and lubrication levels is essential to maintain its performance and minimize the effects of heat.
Humidity:
In humid environments, the risk of corrosion and rust formation on the motor chain increases. To address this, corrosion-resistant materials and coatings are commonly used for motor chains. Stainless steel chains or chains with special corrosion-resistant coatings provide better protection against moisture and humidity.
Proper maintenance and lubrication are also crucial in humid environments to prevent moisture from penetrating the chain and causing corrosion. Regular inspections, cleaning, and lubrication with corrosion-inhibiting lubricants can help extend the lifespan of the chain and maintain its performance.
It is important to note that while motor chains can be used in high-temperature or humid environments, their performance and lifespan can still be affected. It is recommended to consult the chain manufacturer for specific guidelines and recommendations regarding the use of motor chains in such conditions. Additionally, proper ventilation and environmental controls should be considered to minimize the impact of high temperatures or humidity on the chain's performance.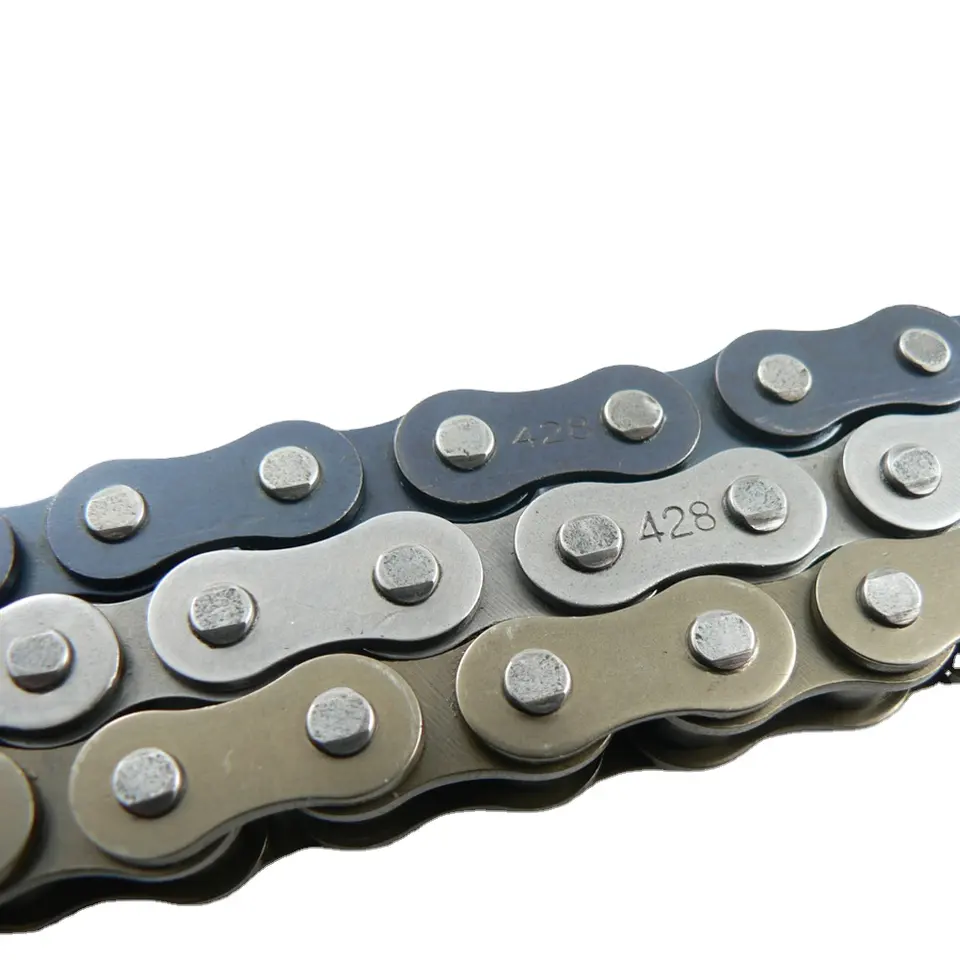 What are the advantages of using a motor chain in power transmission?
Using a motor chain in power transmission offers several advantages:
1. High Efficiency: Motor chains are designed to transmit power efficiently from the motor to the driven equipment. They minimize energy losses and ensure maximum power transfer, resulting in high overall system efficiency.
2. Reliable Power Transmission: Motor chains provide a reliable means of transmitting power in various applications. They have high load-bearing capabilities and can handle both high torque and high-speed operations, making them suitable for a wide range of industrial processes.
3. Compact Design: Motor chains have a compact design, which allows for efficient power transmission in tight spaces. They can be easily integrated into machinery and equipment without occupying excessive space.
4. Precise Speed Control: Motor chains enable precise speed control of the driven equipment. By selecting the appropriate chain size and gear ratio, you can achieve the desired speed and maintain consistent operation, essential in applications that require precise motion control.
5. Versatility: Motor chains are versatile and can be used in various power transmission systems, including conveyor systems, automotive assembly lines, industrial machinery, and more. They can accommodate different loads, speeds, and operating conditions.
6. Durability and Longevity: Motor chains are designed to withstand heavy-duty applications and harsh operating environments. They are made from high-quality materials, such as alloy steel, that provide excellent strength, wear resistance, and durability, ensuring a long service life.
7. Easy Maintenance: Motor chains typically require minimal maintenance. Regular lubrication and periodic inspection are usually sufficient to keep them in optimal operating condition. This ease of maintenance contributes to the overall cost-effectiveness of using motor chains.
Overall, using a motor chain in power transmission systems offers reliable and efficient power transfer, precise speed control, versatility, and long-term durability. These advantages make motor chains a popular choice in various industries for transmitting power from motors to driven equipment.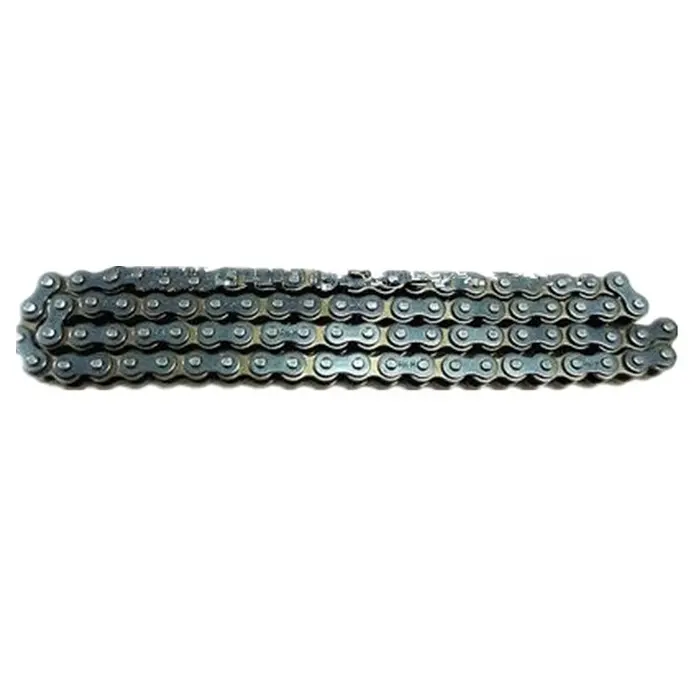 What are the applications of motor chains in various industries?
Motor chains, also known as power transmission chains, have a wide range of applications in various industries. Here are some common industries where motor chains are used:
1. Automotive Industry: Motor chains are extensively used in automotive manufacturing for power transmission in engines, timing systems, and other mechanical components. They ensure precise motion control and synchronization of engine parts.
2. Industrial Machinery: Motor chains are found in a variety of industrial machinery, including conveyor systems, material handling equipment, packaging machines, printing presses, and assembly lines. They facilitate the movement of components and materials, ensuring smooth operation and efficient production.
3. Construction and Mining: Motor chains are used in construction and mining equipment such as excavators, cranes, bulldozers, and conveyor systems. They handle heavy loads and provide reliable power transmission in demanding environments.
4. Agriculture: Motor chains are employed in agricultural machinery such as tractors, combine harvesters, and irrigation systems. They help drive various components and ensure efficient operation in farming and crop production.
5. Material Handling: Motor chains are vital in material handling equipment, including forklifts, hoists, and elevators. They enable the lifting and movement of heavy loads, ensuring precise control and safe operation.
6. Energy and Utilities: Motor chains are used in power generation facilities, such as turbines and generators, to transmit rotational power. They are also found in wind turbines, hydroelectric plants, and other renewable energy systems.
7. Food and Beverage: Motor chains are employed in food processing equipment, including conveyors, mixers, bottling lines, and packaging machines. They ensure efficient and hygienic material handling in the food and beverage industry.
These are just a few examples, and motor chains are utilized in many other industries where power transmission and motion control are critical. Their versatility, durability, and ability to handle high loads make them indispensable in various industrial applications.



editor by CX 2023-11-16