Product Description
Product

Standard Double Pitch Roller chain

Material

40Mn steel,304 stainless steel, 316 stainless steel and 201 stainless steel.

Types

Standard chains and special chains, such as A or B series chains, roller chains, driving chains, conveyor chains, hoisting chains, agricultural chains, sprockets, gears, wheels and so on.

Series

 A series(12.7-50.8mm pitches),B series (9.525-50.8mm pitches)and the heavy series.

Short pitch precision roller chain

Simplex Roller Chains&Bushing Chains: 

04C-1,06C-1,085-1,08A-1,10A-1,12A-1,16A-1,20A-1,24A-1,28A-1,32A-1,36A-1,40A-1,48A-1
Duplex Roller Chains&Bushing Chains:

04C-2,06C-2,085-2,08A-2,10A-2,12A-2,16A-2,20A-2,24A-2,28A-2,32A-2,36A-2,40A-2,48A-2
Triplex Roller Chains&Bushing Chains:

04C-3,06C-2,085-3,08A-3,10A-3,12A-3,16A-3,20A-3,24A-3,28A-3,32A-3,36A-3,40A-3,48A-3

Chain link type

Standard links (without attachment) and non-standard links (with attachment).

 

A1: One-side,one hole cranked attachments.
A2: One-side,two holes cranked attachments.
K1: Both-side,one hole cranked attachments.
K2: Both-side,two hole cranked attachments.
D1: One-side,an extended pin on every outer link.
D3: One-side,two extended pin on every outer link.

Our Products Advantage

1. Every step from production order to the packing process has a strict quality inspection.
2. We have standard roller chain with 1.5 CHINAMFG (DIN. ANSI.); Non-standard roller chain (customized acording to customer drawings).
3. Export products with high quality and low price.
4.We have a good service before and after-sale.
1.Fast delivery: Standard products can be delivered in as fast as 20 days
2.Good service: timely reply, prompt quotation, responsible for the product
3.High cost performance: can maintain price stability for a certain period of time, bringing greater profits to customers
4.Good quality: production and testing have corresponding supervision to ensure product quality and get high praise from customers
5.OEM service: products can be customized according to drawings and requirements
We are responsible for the ordered products. We are very confident in the products we produce. Of course, if you have any problems after receiving the goods, you can contact us directly. We will confirm and negotiate in time to solve your difficulties.
| | |
| --- | --- |
| Standard or Nonstandard: | Standard |
| Application: | Textile Machinery, Garment Machinery, Conveyer Equipment, Packaging Machinery, Electric Cars, Motorcycle, Food Machinery, Mining Equipment, Agricultural Machinery, Car |
| Surface Treatment: | Oil Blooming |
| Structure: | Combined Chain |
| Material: | Carbon Steel |
| Type: | Silent Chain |
Samples:

US$ 35/kg

1 kg(Min.Order)

|
Request Sample
Customization:

Available

|

Customized Request
Can a motor chain be used in vertical motion applications?
Yes, a motor chain can be used in vertical motion applications. Vertical motion refers to applications where the chain is responsible for lifting or lowering loads vertically. Motor chains are commonly used in various vertical motion systems, such as elevators, vertical conveyors, lifting mechanisms, and overhead cranes.
When using a motor chain for vertical motion, it is important to consider the following factors:
1. Load Capacity:
Ensure that the motor chain has sufficient load-carrying capacity to handle the weight of the load being lifted or lowered. It is crucial to select a chain with a suitable working load limit to ensure safe and efficient operation.
2. Tensioning and Alignment:
Proper tensioning and alignment of the motor chain are critical in vertical motion applications. The chain should be adequately tensioned to prevent excessive slack or sag, which can affect its performance and increase the risk of derailment.
3. Safety Mechanisms:
Implement appropriate safety mechanisms, such as limit switches or overload protection devices, to ensure safe operation and prevent accidents in vertical motion applications. These mechanisms help detect and respond to abnormal conditions, such as excessive load or chain tension.
4. Lubrication and Maintenance:
Regular lubrication and maintenance are essential for the proper functioning and longevity of the motor chain in vertical motion applications. Ensure that the chain is properly lubricated to minimize friction and wear.
5. Compliance with Regulations:
Ensure that the motor chain and associated components comply with relevant safety and industry regulations for vertical motion applications. This includes adherence to standards and guidelines for load capacity, materials, design, and installation.
By considering these factors and following proper installation and maintenance practices, a motor chain can be effectively used in vertical motion applications, providing reliable and efficient performance.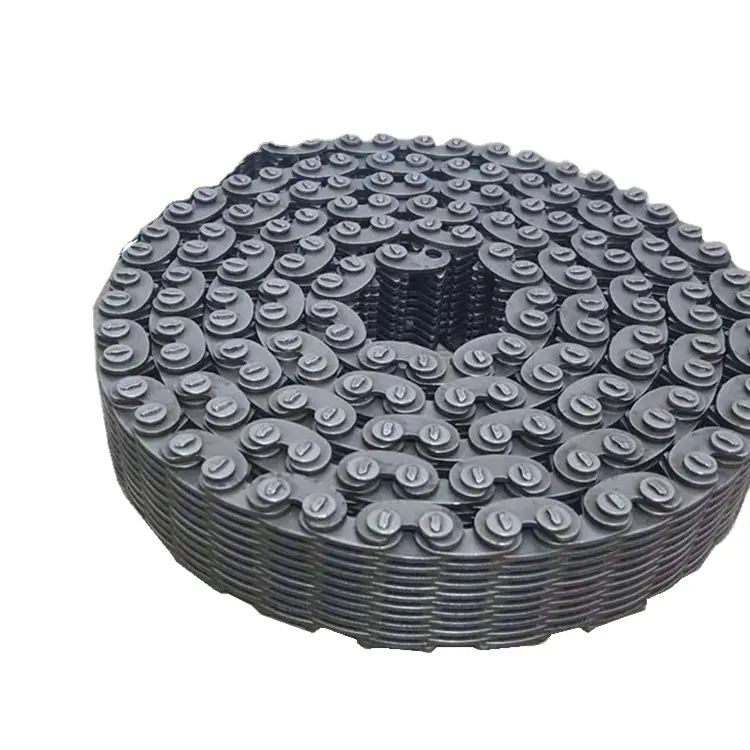 Can a motor chain be used for high-speed applications?
Yes, motor chains can be used for high-speed applications depending on their design and specifications. Here are some factors to consider:
1. Chain Speed Rating: Motor chains are typically rated for specific maximum speeds. It is important to choose a motor chain that has a speed rating suitable for your application. Higher speed ratings indicate that the chain is designed to handle faster rotational speeds without compromising performance or safety.
2. Chain Design: Motor chains for high-speed applications are often designed with features to reduce friction and minimize the effects of centrifugal forces. This may include precision machining, specialized coatings, and optimized lubrication systems. These design considerations help maintain chain stability and performance at high speeds.
3. Lubrication: Proper lubrication is crucial for high-speed motor chain applications. It helps reduce friction, heat, and wear, ensuring smooth operation at elevated speeds. Selecting the appropriate lubricant and establishing a regular lubrication schedule are essential for maximizing the performance and lifespan of the motor chain.
4. Chain Tension: Maintaining proper chain tension is important for high-speed applications. Excessive slack or excessive tension can lead to performance issues, increased wear, and potential chain failure. It is necessary to follow the manufacturer's guidelines for tensioning the motor chain and regularly check and adjust the tension as needed.
5. Sprocket Design: The design and quality of the sprockets that engage with the motor chain are also crucial for high-speed applications. High-speed sprockets should be precisely machined, balanced, and durable to ensure smooth and reliable power transmission.
It is important to consult the manufacturer's specifications and guidelines when selecting a motor chain for high-speed applications. They can provide detailed information on the chain's speed capabilities and any specific considerations for optimal performance at high speeds. By choosing the appropriate motor chain and implementing proper maintenance practices, it is possible to use motor chains effectively in high-speed applications.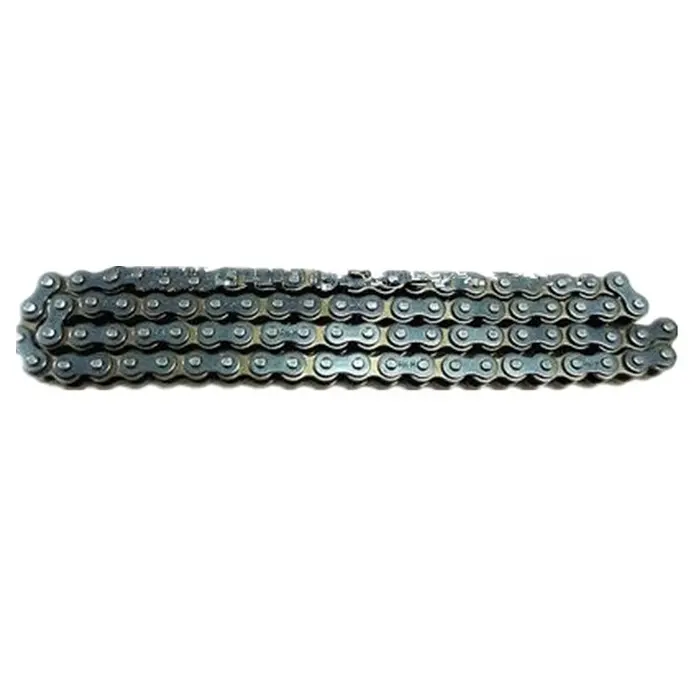 What are the applications of motor chains in various industries?
Motor chains, also known as power transmission chains, have a wide range of applications in various industries. Here are some common industries where motor chains are used:
1. Automotive Industry: Motor chains are extensively used in automotive manufacturing for power transmission in engines, timing systems, and other mechanical components. They ensure precise motion control and synchronization of engine parts.
2. Industrial Machinery: Motor chains are found in a variety of industrial machinery, including conveyor systems, material handling equipment, packaging machines, printing presses, and assembly lines. They facilitate the movement of components and materials, ensuring smooth operation and efficient production.
3. Construction and Mining: Motor chains are used in construction and mining equipment such as excavators, cranes, bulldozers, and conveyor systems. They handle heavy loads and provide reliable power transmission in demanding environments.
4. Agriculture: Motor chains are employed in agricultural machinery such as tractors, combine harvesters, and irrigation systems. They help drive various components and ensure efficient operation in farming and crop production.
5. Material Handling: Motor chains are vital in material handling equipment, including forklifts, hoists, and elevators. They enable the lifting and movement of heavy loads, ensuring precise control and safe operation.
6. Energy and Utilities: Motor chains are used in power generation facilities, such as turbines and generators, to transmit rotational power. They are also found in wind turbines, hydroelectric plants, and other renewable energy systems.
7. Food and Beverage: Motor chains are employed in food processing equipment, including conveyors, mixers, bottling lines, and packaging machines. They ensure efficient and hygienic material handling in the food and beverage industry.
These are just a few examples, and motor chains are utilized in many other industries where power transmission and motion control are critical. Their versatility, durability, and ability to handle high loads make them indispensable in various industrial applications.



editor by CX 2023-10-18