Product Description
China Industrial ASA DIN Standard 16B Roller Chain Sprocket Wheel Sprockets and Chains Duple
MIGHTY manufacture different types of roller chain sprockets as follows:
European Standard: 03, 04, 05B, 06B, 081, 083, 084, 085, 08B, 10B, 12B, 16B, 20B, 24B, 28B, 32B, 40B;
American Standard: ASA 25, ASA 35, ASA 40, ASA 50, ASA 60, ASA 80, ASA 100, ASA 120, ASA 140, ASA 160, 04C, 06C, 08A, 10A, 12A, 16A, 20A, 24A, 28A, 32A, 40A, 41A, 48A, 50A;
Pitch (mm): 5, 6, 6.35, 8, 9.525, 12.7, 15.875, 19.05, 25.4, 31.75, 38.1, 44.45, 50.8;
Pitch (inch): 1/4″, 3/8″, 1/2″, 5/8″, 3/4″, 1″, 1 1/4″, 1 1/2″, 1 3/4″, 2″.
Bore Type: standard bore, bore for set screw, bearing, keyway, taper bush.
Material: steel, stainless steel, cast iron; Surface Finish: phosphate, black oxide, zinc plate, paint, passivate, etc.
OUR SERVICE:
1) Competitive price and good quality
2) Used for transmission systems.
3) Excellent performance, long using life
4) Could be  developed according to your drawings or data sheet
5) Pakaging:follow the customers' requirements or as our usual package
6) Brand name: per every customer's requirement.
7) Flexible minimum order quantity
8) Sample can be supplied
MAIN PRODUCTS:
1) Timing Belt Pulley (Synchronous Pulley), Timing Bar, Clamping Plate;
2) Forging, Casting, Stampling Part;
3) V Belt Pulley and Taper Lock Bush; Sprocket, Idler and Plate Wheel;Spur Gear, Bevel Gear, Rack; 
4) Shaft Locking Device: could be alternative for Ringfeder, Sati, Chiaravalli, Tollok, etc.;
5) Shaft Coupling:including Miniature couplings, Curved tooth coupling, Chain coupling, HRC coupling,              Normex coupling, Type coupling, GE Coupling, torque limiter, Universal Joint; 
6) Shaft Collars: including Setscrew Type, Single Split and Double Splits;
7) Timing Belt: including Rubber and PU timing belts for industrial;
8) Other customized Machining Parts according to drawings (OEM).
Company Information
ZheJiang Mighty Machinery Co., Ltd. specializes in manufacturing Mechanical Power Transmission Products.
We Mighty is the division/branch of SCMC Group, which is a wholly state-owned company, established in 1980.
About Mighty:
-3 manufacturing factories, we have 5 technical staff, our FTY have strong capacity for design and process design, and more than
70 workers and double shift eveyday.
-Large quality of various material purchase and stock in warhouse which ensure the low cost for the material and production in
time.
-Strick quality control are apply in the whole prodution. we have incoming inspection,process inspection and final production
inspection which can ensure the perfect of the goods quality.
-14 years of machining experience. Long time cooperate with the Global Buyer, make us easy to understand the csutomer and handle the export.
MIGHTY's products are mainly exported to Europe, America and the Middle East market. With the top-ranking management, professional technical support and abundant export experience, MIGHTY has established lasting and stable business partnership with many world famous companies and has got good reputation from CHINAMFG customers in international sales.
FAQ
Q: Are you trading company or manufacturer ?
A: We are factory.
Q: How long is your delivery time?
A: Generally it is 5-10 days if the goods are in stock. or it is 15-20 days if the goods are not in stock, it is according to
quantity.
Q: Do you provide samples ? is it free or extra ?
A: Yes, we could offer the sample for free charge but do not pay the cost of freight.
Q: What is your terms of payment ?
A: Payment=10000USD, 30% T/T in advance ,balance before shippment.
We warmly welcome friends from domestic and abroad come to us for business negotiation and cooperation for mutual benefit.To supply customers excellent quality products with good price and punctual delivery time is our responsibility.
| | |
| --- | --- |
| Standard Or Nonstandard: | Standard |
| Application: | Motor, Motorcycle, Agricultural Machinery |
| Hardness: | Hardened Tooth Surface |
| Manufacturing Method: | Forging/Casting |
| Toothed Portion Shape: | Curved Gear |
| Material: | 40mn |
Samples:

US$ 0.5/Piece

1 Piece(Min.Order)

|
Request Sample
Customization:

Available

|

Customized Request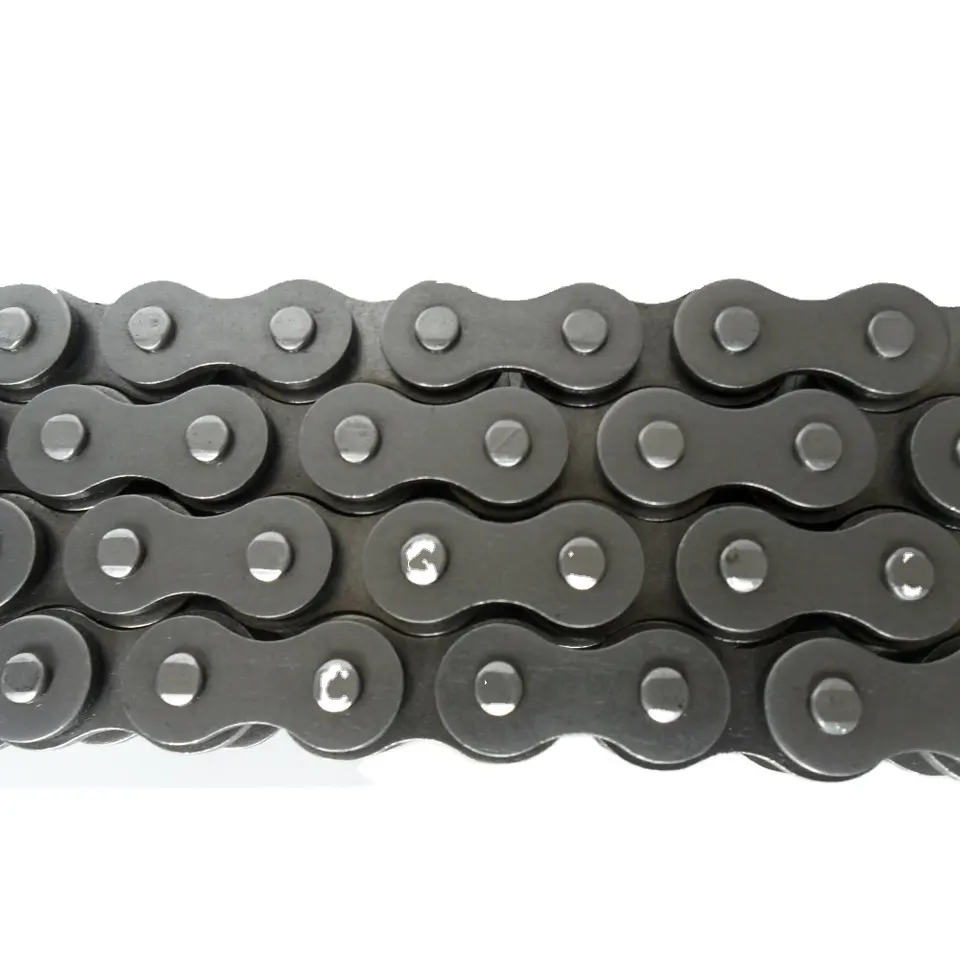 How do you troubleshoot common issues with motor chains?
Troubleshooting common issues with motor chains involves identifying the root cause of the problem and taking appropriate corrective actions. Here are some common issues that can occur with motor chains and the steps to troubleshoot them:
1. Chain slipping or jumping: If the motor chain slips or jumps on the sprockets, it can indicate insufficient tension, worn-out sprockets, or a damaged chain. Check the tension of the chain and adjust it according to the manufacturer's recommendations. Inspect the sprockets for signs of wear or damage and replace them if necessary. Additionally, examine the chain for any damaged or worn-out links and replace the chain if needed.
2. Excessive noise: Excessive noise from the motor chain can be caused by various factors such as misalignment, lack of lubrication, worn-out components, or improper tension. Inspect the chain for any misalignment issues and adjust the alignment if necessary. Ensure that the chain is properly lubricated using the recommended lubricant. Check for any worn-out or damaged components and replace them as needed. Adjust the chain tension to the proper specifications.
3. Chain binding or jamming: If the motor chain binds or jams during operation, it can be due to misalignment, debris accumulation, or insufficient lubrication. Check for any misalignment and adjust the alignment of the chain and sprockets if required. Clean any debris or foreign particles that may have accumulated on the chain or sprockets. Ensure proper lubrication of the chain to minimize friction and improve smooth operation.
4. Chain wear and elongation: Excessive chain wear and elongation can lead to poor performance and decreased efficiency. Regularly monitor the chain for signs of wear and measure its elongation using a chain wear gauge. If the wear exceeds the manufacturer's recommendations, it is advisable to replace the chain with a new one.
5. Insufficient lubrication: Inadequate lubrication can cause increased friction, wear, and premature failure of the motor chain. Check the lubrication system and ensure that the chain is properly lubricated with the recommended lubricant. Adjust the lubrication frequency or method if necessary to ensure optimal lubrication.
When troubleshooting motor chain issues, it is important to refer to the manufacturer's guidelines and recommendations. If the problem persists or if you are unsure about the appropriate troubleshooting steps, it is recommended to consult a professional or the chain manufacturer for further assistance.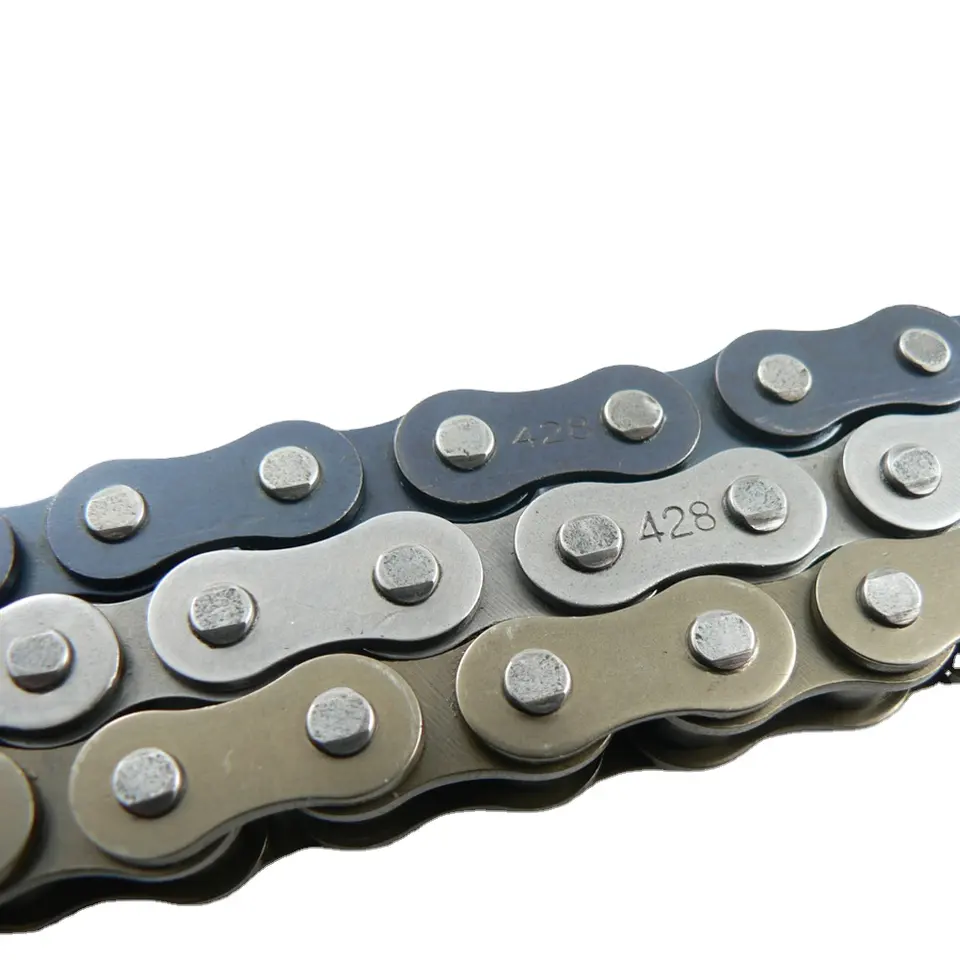 What are the advantages of using a motor chain in power transmission?
Using a motor chain in power transmission offers several advantages:
1. High Efficiency: Motor chains are designed to transmit power efficiently from the motor to the driven equipment. They minimize energy losses and ensure maximum power transfer, resulting in high overall system efficiency.
2. Reliable Power Transmission: Motor chains provide a reliable means of transmitting power in various applications. They have high load-bearing capabilities and can handle both high torque and high-speed operations, making them suitable for a wide range of industrial processes.
3. Compact Design: Motor chains have a compact design, which allows for efficient power transmission in tight spaces. They can be easily integrated into machinery and equipment without occupying excessive space.
4. Precise Speed Control: Motor chains enable precise speed control of the driven equipment. By selecting the appropriate chain size and gear ratio, you can achieve the desired speed and maintain consistent operation, essential in applications that require precise motion control.
5. Versatility: Motor chains are versatile and can be used in various power transmission systems, including conveyor systems, automotive assembly lines, industrial machinery, and more. They can accommodate different loads, speeds, and operating conditions.
6. Durability and Longevity: Motor chains are designed to withstand heavy-duty applications and harsh operating environments. They are made from high-quality materials, such as alloy steel, that provide excellent strength, wear resistance, and durability, ensuring a long service life.
7. Easy Maintenance: Motor chains typically require minimal maintenance. Regular lubrication and periodic inspection are usually sufficient to keep them in optimal operating condition. This ease of maintenance contributes to the overall cost-effectiveness of using motor chains.
Overall, using a motor chain in power transmission systems offers reliable and efficient power transfer, precise speed control, versatility, and long-term durability. These advantages make motor chains a popular choice in various industries for transmitting power from motors to driven equipment.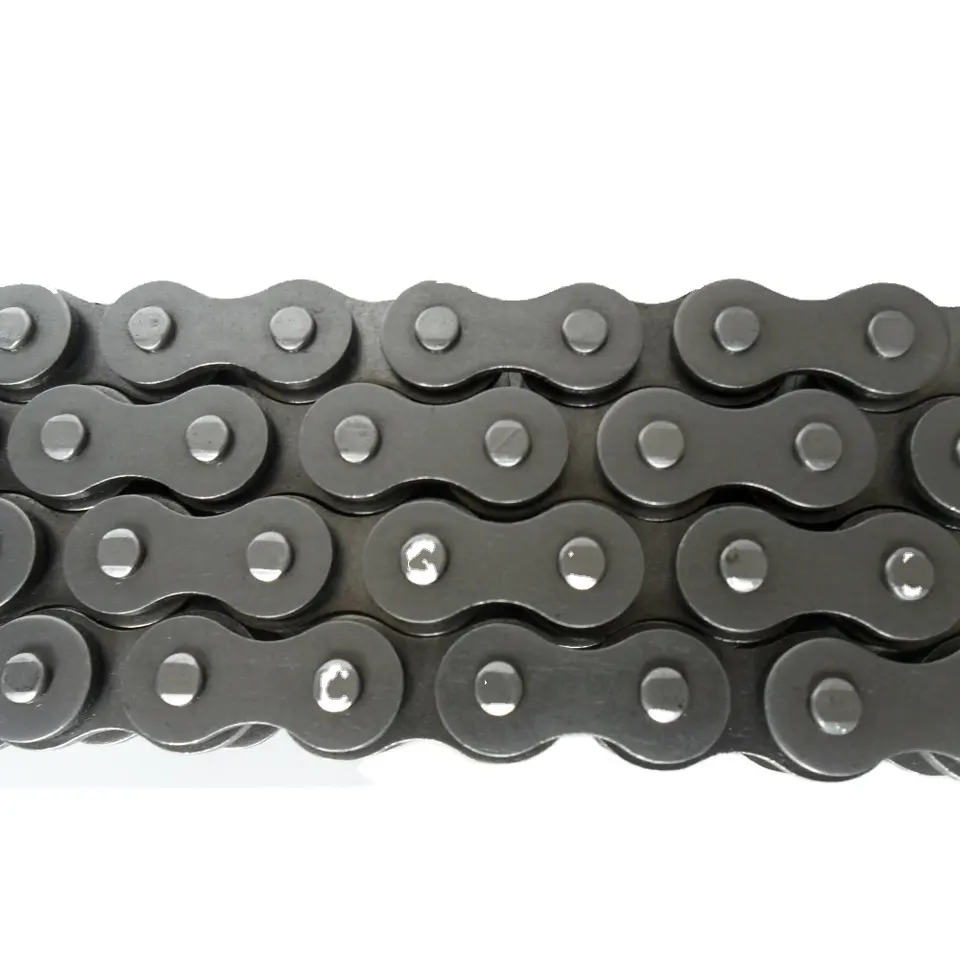 How do you select the right motor chain for a specific motor?
When selecting a motor chain for a specific motor, there are several factors to consider. Here is a step-by-step guide:
1. Determine the motor specifications: Start by understanding the motor's power rating, speed, and torque requirements. This information will help you choose a motor chain that can handle the motor's power output and torque demands.
2. Identify the application requirements: Consider the specific application in which the motor will be used. Determine if the motor will be subjected to high loads, high speeds, or harsh environmental conditions. This will help you select a motor chain that is suitable for the application's demands.
3. Determine the chain type: Motor chains come in various types, including roller chains, silent chains, bush chains, and more. Each chain type has its own characteristics and performance capabilities. Select a chain type that aligns with the requirements of the motor and application.
4. Calculate the chain size: Determine the required chain size based on the motor's power and torque requirements. Consider factors such as pitch size, roller diameter, and number of chain links. Manufacturers typically provide chain size charts or calculation tools to assist in selecting the right chain size.
5. Consider the environmental factors: Take into account the environmental conditions in which the motor will operate. If the motor is exposed to moisture, chemicals, high temperatures, or other harsh elements, choose a motor chain with appropriate corrosion resistance, temperature resistance, and durability.
6. Consult manufacturer recommendations: Consult the motor manufacturer's recommendations or specifications to identify any specific requirements or restrictions for motor chains. They may provide guidance on compatible chain types, lubrication requirements, and maintenance recommendations.
7. Evaluate cost and availability: Consider the cost and availability of the selected motor chain. Evaluate factors such as initial cost, maintenance requirements, and the availability of spare parts or replacements.
By considering these factors and conducting thorough research, you can select the right motor chain that matches the motor's specifications, application requirements, and environmental conditions. It is recommended to consult with motor and chain manufacturers or industry experts for further guidance and assistance.



editor by CX 2023-10-10