Product Description
Product Description

Specification
| | |
| --- | --- |
| Product Name | Wholesale Price Conveyor Chain 12b-2 Roller Chains with Sprocket For Machinery |
| Type | Roller Chain |
| MOQ | 1meter |
| Brand | CSZBTR |
| OEM | YES,We also can produce special chain according to your requirements,also produce matched sprocket/wheel. |
| Package | According to customer's requirements |
| Weight | 0.56kg/Meter |
| Delivery time | 7 days |
other models
| | | | | | |
| --- | --- | --- | --- | --- | --- |
| Chain No. | P | h2 | H | $ | T |
| 08AF29 | 12.700 | 10^)0 | 15.6 | – | 1.50 |
| O8BF9O | 12.700 | 10^0 | 17.0 | 0.3 | 1.60 |
| 0M-1STCF15 | 12.700 | 1571 | 17.0 |   | 1.60 |
| 10AF2 | 15.875 | 13.00 | 17.0 | 0.3 | 2.(0 |
| 10AF15 | 15.875 | 15.09 | 17.0 | – | 2.03 |
| 10AF23 | 15.875 | 13.00 | 2(18 | 0.3 | 2.03 |
| 10AF48 | 15«5 | 1100 | 16.9 | « | 2.03 |
| 10BF50 | 15B75 | 13.70 | 17.0 | 0.3 | 1.70 |
| 10AF5« | 15^75 | 1SX)9 | 17.0 | . | 2.03 |
| | | | | | | |
| --- | --- | --- | --- | --- | --- | --- |
|   | P | h2 | h | 1 | S | a |
| Chain No. |   |   |   |   |   |   |
| 08BF25 | 12.7XJ | 10.6 | 15.6 | 1.60 |   | 30, |
| 08BF29 | 12. TO | 1&6 | 14.5 | 1.60 | as | 30* |
| 08BF30 | 12 | 1G6 | 14.5 | l.g | Q3 | 30* |
| 08BF35 | 12. W | ia6 | 21.5 | 1.60 | 0.6 | 30* |
| 08BF67 | 12.TO | ia6 | 16.1 | 1.60 | as | 30* |
| 0fflF195 | 12.70 | 10.6 | 45 | 1.60 | 0.4 | 30, |
| 08AF10 | 12.70 | 10.6 |   | L50 | – | 30* |
| 12B-1STCF1 | 19.05 | 15.0 | 19.0 | 1.85 | – | 30, |
| 12AF33 | 19.05 | 15.6 | 19.7 | 2.42 | 0£ | 18* |
|   |   |   |   |   |   |   |
|   | P | hl | h2 | h | A | Q |
| Chain No. |   |   |   |   |   |   |
| 08BF21 | 12.7 | 10 | 1Q6 | 15.0 | 10 | 0 |
Company Profile
HangZhou Terry Machinery Co.Ltd is a leading supplier of bearings, Linear motion system for CNC , Ball transfer
Unit and transmission component .the growing industrial and Favorable policy of HangZhou benefit the developm
ent of Terry Machinery .Our products are utilized in industrial, motorcycle, vehicle and Automation applications.
Now we are exporting to 46 countries. including USA, GBR , Germany , Spain, Poland ,Turkey ect .The Goal o
f Terry Machinery to provide out customers with widest range of products at competitive prices, backed with the
best Service.OUR ADVANTAGE Products Our major products & Supplied:Meet all the international standards
and ISO9001 -TS1694 Certificate Big volume in Stock, No MOQ required Personnel Our salespersons are well
trained to accommodate your requests and speak English for your conveniences.Our technicians and engineers
Experience in the Industry area exceeds 23 years Service &Quality control ,We supply detailed drawings and
offer when ever necessary,We help all customers promote and improve their sales.We inspect every piece of
products by ourselves before delivery.

Application
related product
product-list-1.html
Packing &Delivery
Customer Praise
FAQ

| | |
| --- | --- |
| Standard Or Nonstandard: | Standard |
| Application: | Motor, Electric Cars, Motorcycle, Machinery, Marine, Toy, Agricultural Machinery, Car |
| Hardness: | Hardened Tooth Surface |
| Manufacturing Method: | Rolling Gear |
| Toothed Portion Shape: | Spur Gear |
| Material: | 45mn |
Samples:

US$ 5.84/Piece

1 Piece(Min.Order)

|
Request Sample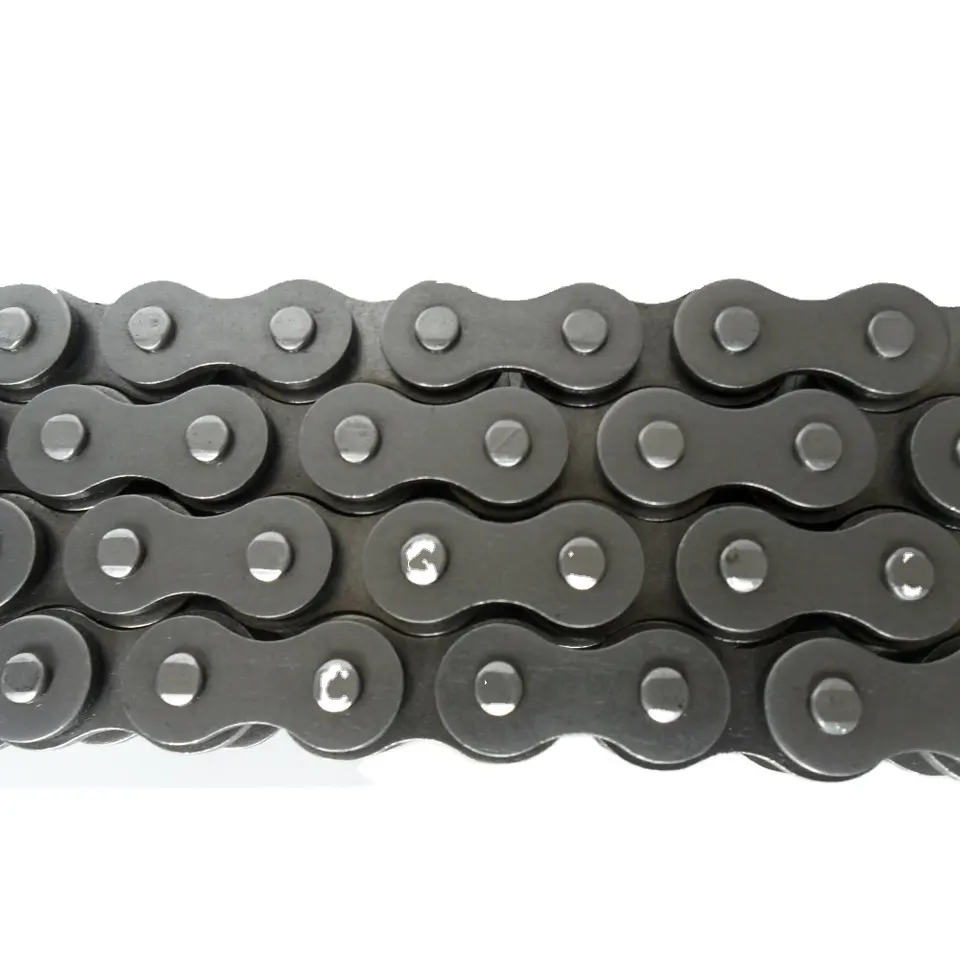 How do you troubleshoot common issues with motor chains?
Troubleshooting common issues with motor chains involves identifying the root cause of the problem and taking appropriate corrective actions. Here are some common issues that can occur with motor chains and the steps to troubleshoot them:
1. Chain slipping or jumping: If the motor chain slips or jumps on the sprockets, it can indicate insufficient tension, worn-out sprockets, or a damaged chain. Check the tension of the chain and adjust it according to the manufacturer's recommendations. Inspect the sprockets for signs of wear or damage and replace them if necessary. Additionally, examine the chain for any damaged or worn-out links and replace the chain if needed.
2. Excessive noise: Excessive noise from the motor chain can be caused by various factors such as misalignment, lack of lubrication, worn-out components, or improper tension. Inspect the chain for any misalignment issues and adjust the alignment if necessary. Ensure that the chain is properly lubricated using the recommended lubricant. Check for any worn-out or damaged components and replace them as needed. Adjust the chain tension to the proper specifications.
3. Chain binding or jamming: If the motor chain binds or jams during operation, it can be due to misalignment, debris accumulation, or insufficient lubrication. Check for any misalignment and adjust the alignment of the chain and sprockets if required. Clean any debris or foreign particles that may have accumulated on the chain or sprockets. Ensure proper lubrication of the chain to minimize friction and improve smooth operation.
4. Chain wear and elongation: Excessive chain wear and elongation can lead to poor performance and decreased efficiency. Regularly monitor the chain for signs of wear and measure its elongation using a chain wear gauge. If the wear exceeds the manufacturer's recommendations, it is advisable to replace the chain with a new one.
5. Insufficient lubrication: Inadequate lubrication can cause increased friction, wear, and premature failure of the motor chain. Check the lubrication system and ensure that the chain is properly lubricated with the recommended lubricant. Adjust the lubrication frequency or method if necessary to ensure optimal lubrication.
When troubleshooting motor chain issues, it is important to refer to the manufacturer's guidelines and recommendations. If the problem persists or if you are unsure about the appropriate troubleshooting steps, it is recommended to consult a professional or the chain manufacturer for further assistance.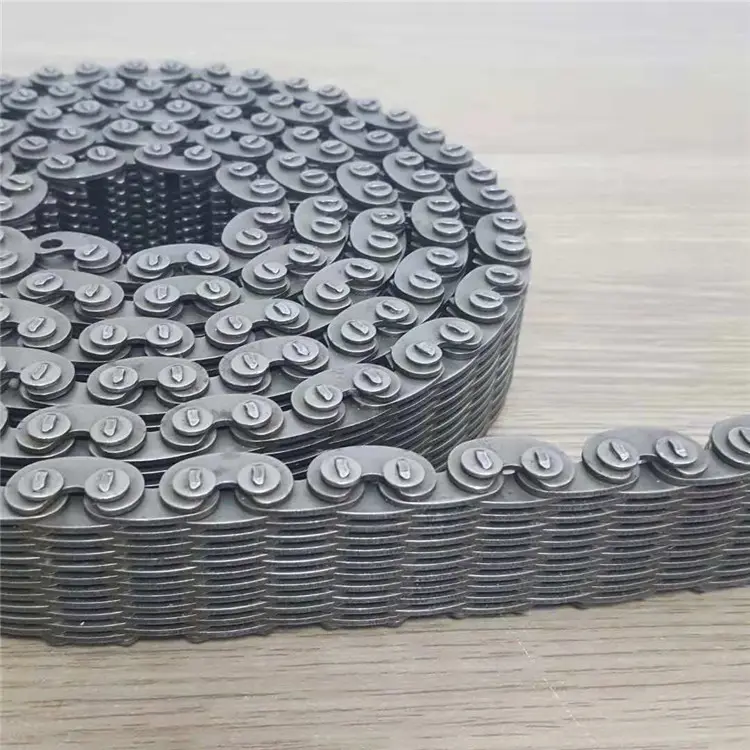 Can a motor chain handle heavy loads?
Yes, motor chains are designed to handle heavy loads in various applications. Here are some factors to consider:
1. Chain Strength: Motor chains are available in different strength ratings, typically measured in terms of their maximum allowable tension or breaking strength. It is important to select a motor chain with a strength rating suitable for the anticipated loads in your application. Chains with higher strength ratings can handle heavier loads.
2. Chain Material: Motor chains are commonly made from high-strength steel or alloy materials that provide excellent durability and load-bearing capacity. The choice of material depends on the specific application requirements, including the expected load, environmental conditions, and any regulatory standards.
3. Chain Design: Motor chains designed for heavy-load applications often have robust construction features to enhance their load-carrying capabilities. These may include larger pitch sizes, thicker plates, hardened components, and precision manufacturing. The design ensures that the chain can withstand the forces and stresses associated with heavy loads.
4. Lubrication: Proper lubrication is essential for motor chains handling heavy loads. It helps reduce friction and wear, ensuring smooth operation and extending the chain's service life. Adequate lubrication also prevents overheating and corrosion, which can negatively impact the chain's load-carrying capacity.
5. Sprocket Design: The sprockets that engage with the motor chain also play a crucial role in handling heavy loads. Sprockets should be designed to evenly distribute the load across the chain and provide reliable engagement. Robust and properly sized sprockets ensure that the chain can effectively transmit the heavy loads without excessive wear or failure.
When considering a motor chain for heavy-load applications, it is important to consult the manufacturer's specifications and guidelines. They can provide detailed information on the chain's load-carrying capacity, including factors such as tensile strength, working load limits, and recommended safety factors. Proper chain selection, regular maintenance, and adherence to load limitations are key to ensuring safe and efficient operation under heavy loads.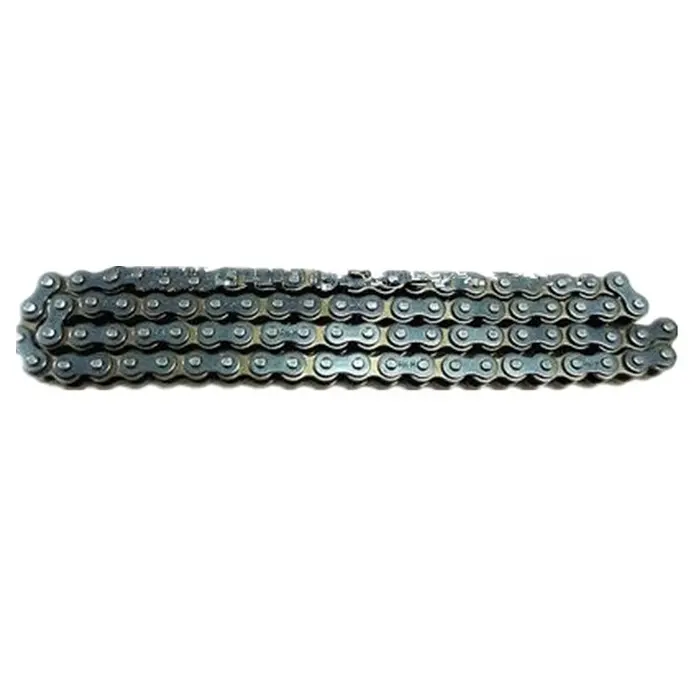 What are the applications of motor chains in various industries?
Motor chains, also known as power transmission chains, have a wide range of applications in various industries. Here are some common industries where motor chains are used:
1. Automotive Industry: Motor chains are extensively used in automotive manufacturing for power transmission in engines, timing systems, and other mechanical components. They ensure precise motion control and synchronization of engine parts.
2. Industrial Machinery: Motor chains are found in a variety of industrial machinery, including conveyor systems, material handling equipment, packaging machines, printing presses, and assembly lines. They facilitate the movement of components and materials, ensuring smooth operation and efficient production.
3. Construction and Mining: Motor chains are used in construction and mining equipment such as excavators, cranes, bulldozers, and conveyor systems. They handle heavy loads and provide reliable power transmission in demanding environments.
4. Agriculture: Motor chains are employed in agricultural machinery such as tractors, combine harvesters, and irrigation systems. They help drive various components and ensure efficient operation in farming and crop production.
5. Material Handling: Motor chains are vital in material handling equipment, including forklifts, hoists, and elevators. They enable the lifting and movement of heavy loads, ensuring precise control and safe operation.
6. Energy and Utilities: Motor chains are used in power generation facilities, such as turbines and generators, to transmit rotational power. They are also found in wind turbines, hydroelectric plants, and other renewable energy systems.
7. Food and Beverage: Motor chains are employed in food processing equipment, including conveyors, mixers, bottling lines, and packaging machines. They ensure efficient and hygienic material handling in the food and beverage industry.
These are just a few examples, and motor chains are utilized in many other industries where power transmission and motion control are critical. Their versatility, durability, and ability to handle high loads make them indispensable in various industrial applications.



editor by CX 2023-09-06