Product Description
Motorcycle Chain
Brand introduction:
The brand trademark certified by our company is WASSOLON.Passed the OEM certification.We have a big produce line for producing motorcycle chain,we can produce 100000 chains per month.
Please look at the transported by our company
Product Description:
1. Material: Stainless Steel
2. Chain No:428H
3. Application: Stainless Steel Chains are used in so many industries, such as machine manufacturing, food machine, etc. Also are suitable for motorcycle tyre.
4. Characteristic:
1. The chain can be used on the both sides of multi-axle transmission.
2. Easy installation and replacement.
3. It can obtain larger reduction ratio.
4. The roller chain has good elasticity, high strength and each hinge part has lubricating oil, so it can be stored easliy. Thus, compared with the rigid contact tooth, it has good cushioning and vibration absorbing ability.
 
FAQ
Q1:Where is the place of shipment?
A:We shipped the goods from HangZhou, China.
Q2:I want to try your products first, is that all right?
A:Yes, we provide samples for you to try. After you try the products, you feel that they are good, so it is ok to place an order. After all, good products are confident, and I believe you will like them after trying them out.
Q3:Can I get a discount if I buy more?
A:In the case of a large number of purchases, we can negotiate the price in private.
Q4:Is this tire wear resistant?
A:Sure.The tires we produce are certified by the market, so the wear resistance must be very high and the service life is long enough.
Q5:Will the products be inspected before being sent out to ensure the quality of the products?
A:Of course.We will have an inspection after the products are produced and another inspection before they are sent out to ensure the quality of our products.
Our service:we are always online for you!!!
1.We are specializing in manufacture motorcycle tyres
2.We have many years experience on it 
3.We have confidence in supply each client good quality produce with lowest price
Our pursuit:
We hope that we can start and keep the stable and long term business relationship.Grow up together in 2571.Please let us share with your ideas,I will offer you the perdect service!!!
| | |
| --- | --- |
| Type: | Motorcycle Chain |
| Certification: | OEM |
| Material: | Alloy |
| Model: | 428h 428 420 530 520 |
| Transport Package: | Carton |
| Specification: | 0.014 |
Samples:

US$ 2.6/Piece

1 Piece(Min.Order)

|
Request Sample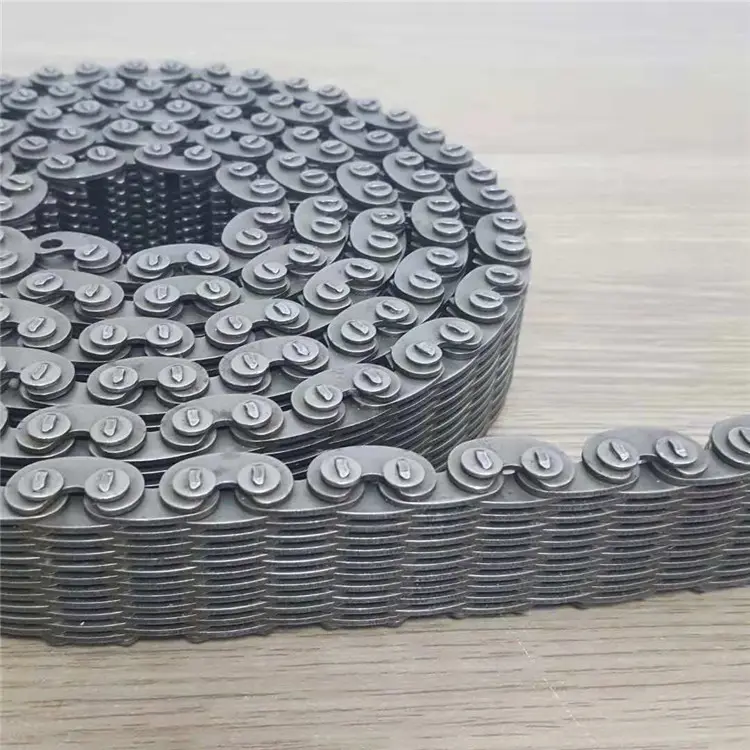 How do you ensure proper tensioning of a motor chain?
To ensure proper tensioning of a motor chain, the following steps can be followed:
1. Consult Manufacturer Guidelines:
Refer to the manufacturer's guidelines and specifications for the specific motor chain being used. They often provide recommended tensioning values and procedures.
2. Check Initial Tension:
Ensure that the initial tension of the motor chain is set correctly during installation. This involves adjusting the tension to the manufacturer's specifications based on the chain length and type.
3. Measure Deflection:
Measure the chain's deflection to determine if it is within the recommended range. Deflection refers to the amount of vertical movement the chain has when pressure is applied at a specific point.
4. Use Tensioning Tools:
Utilize appropriate tensioning tools to adjust the tension of the motor chain accurately. These tools can help ensure consistent and accurate tensioning across the entire length of the chain.
5. Check Alignment:
Ensure that the motor chain is properly aligned with the sprockets and pulleys it interacts with. Misalignment can cause uneven tension distribution and lead to premature wear and potential failure.
6. Regular Inspection:
Regularly inspect the motor chain for any signs of excessive wear, stretching, or elongation. If any issues are identified, take appropriate action such as adjusting the tension or replacing the chain.
It is important to note that the proper tensioning of a motor chain is crucial for its reliable operation. Improper tension can lead to premature wear, increased noise, and reduced efficiency. Always follow the manufacturer's recommendations and consult with experienced professionals if necessary.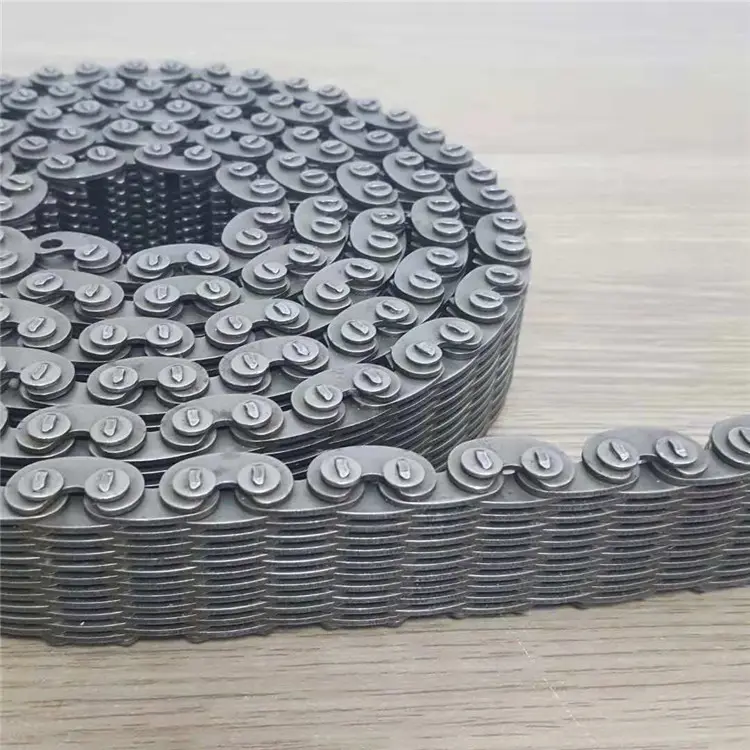 Can a motor chain handle heavy loads?
Yes, motor chains are designed to handle heavy loads in various applications. Here are some factors to consider:
1. Chain Strength: Motor chains are available in different strength ratings, typically measured in terms of their maximum allowable tension or breaking strength. It is important to select a motor chain with a strength rating suitable for the anticipated loads in your application. Chains with higher strength ratings can handle heavier loads.
2. Chain Material: Motor chains are commonly made from high-strength steel or alloy materials that provide excellent durability and load-bearing capacity. The choice of material depends on the specific application requirements, including the expected load, environmental conditions, and any regulatory standards.
3. Chain Design: Motor chains designed for heavy-load applications often have robust construction features to enhance their load-carrying capabilities. These may include larger pitch sizes, thicker plates, hardened components, and precision manufacturing. The design ensures that the chain can withstand the forces and stresses associated with heavy loads.
4. Lubrication: Proper lubrication is essential for motor chains handling heavy loads. It helps reduce friction and wear, ensuring smooth operation and extending the chain's service life. Adequate lubrication also prevents overheating and corrosion, which can negatively impact the chain's load-carrying capacity.
5. Sprocket Design: The sprockets that engage with the motor chain also play a crucial role in handling heavy loads. Sprockets should be designed to evenly distribute the load across the chain and provide reliable engagement. Robust and properly sized sprockets ensure that the chain can effectively transmit the heavy loads without excessive wear or failure.
When considering a motor chain for heavy-load applications, it is important to consult the manufacturer's specifications and guidelines. They can provide detailed information on the chain's load-carrying capacity, including factors such as tensile strength, working load limits, and recommended safety factors. Proper chain selection, regular maintenance, and adherence to load limitations are key to ensuring safe and efficient operation under heavy loads.
How does a motor chain differ from a regular chain?
A motor chain, also known as a power transmission chain, differs from a regular chain in terms of its design and purpose. Here are the key differences:
1. Load Capacity: Motor chains are specifically designed to handle higher loads compared to regular chains. They are built to transmit power and motion between different components in mechanical systems.
2. Precision and Accuracy: Motor chains often have precise tooth profiles or roller systems that ensure accurate positioning and synchronization of components. This is important in applications such as engines, where precise timing is critical.
3. Durability and Strength: Motor chains are built to withstand heavy loads, high speeds, and continuous operation. They are constructed using high-quality materials and advanced manufacturing techniques to ensure durability and strength.
4. Lubrication and Maintenance: Motor chains may require specific lubrication to reduce friction and wear, ensuring smooth operation. Regular maintenance, such as periodic inspection and lubrication, is important to keep the chain in optimal condition.
5. Application-Specific Design: Motor chains are designed for specific applications, such as power transmission in engines, conveyor systems, or lifting equipment. They are engineered to meet the unique requirements of these applications, considering factors such as load capacity, speed, environment, and operational conditions.
It's important to note that while motor chains are designed for specific applications, they may have similarities with regular chains in terms of basic construction and functionality. However, motor chains are engineered to handle higher loads, provide precise motion transmission, and ensure reliable performance in demanding industrial settings.



editor by CX 2023-08-05