Product Description
Motorcycle Chain
Brand introduction:
The brand trademark certified by our company is WASSOLON.Passed the OEM certification.We have a big produce line for producing motorcycle chain,we can produce 100000 chains per month.
Please look at the transported by our company
Product Description:
1. Material: Stainless Steel
2. Chain No:428H
3. Application: Stainless Steel Chains are used in so many industries, such as machine manufacturing, food machine, etc. Also are suitable for motorcycle tyre.
4. Characteristic:
1. The chain can be used on the both sides of multi-axle transmission.
2. Easy installation and replacement.
3. It can obtain larger reduction ratio.
4. The roller chain has good elasticity, high strength and each hinge part has lubricating oil, so it can be stored easliy. Thus, compared with the rigid contact tooth, it has good cushioning and vibration absorbing ability.
 
FAQ
Q1:Where is the place of shipment?
A:We shipped the goods from HangZhou, China.
Q2:I want to try your products first, is that all right?
A:Yes, we provide samples for you to try. After you try the products, you feel that they are good, so it is ok to place an order. After all, good products are confident, and I believe you will like them after trying them out.
Q3:Can I get a discount if I buy more?
A:In the case of a large number of purchases, we can negotiate the price in private.
Q4:Is this tire wear resistant?
A:Sure.The tires we produce are certified by the market, so the wear resistance must be very high and the service life is long enough.
Q5:Will the products be inspected before being sent out to ensure the quality of the products?
A:Of course.We will have an inspection after the products are produced and another inspection before they are sent out to ensure the quality of our products.
Our service:we are always online for you!!!
1.We are specializing in manufacture motorcycle tyres
2.We have many years experience on it 
3.We have confidence in supply each client good quality produce with lowest price
Our pursuit:
We hope that we can start and keep the stable and long term business relationship.Grow up together in 2571.Please let us share with your ideas,I will offer you the perdect service!!!
| | |
| --- | --- |
| Type: | Motorcycle Chain |
| Certification: | OEM |
| Material: | Alloy |
| Model: | 428h 428 420 530 520 |
| Transport Package: | Carton |
| Specification: | 0.014 |
Samples:

US$ 2.6/Piece

1 Piece(Min.Order)

|
Request Sample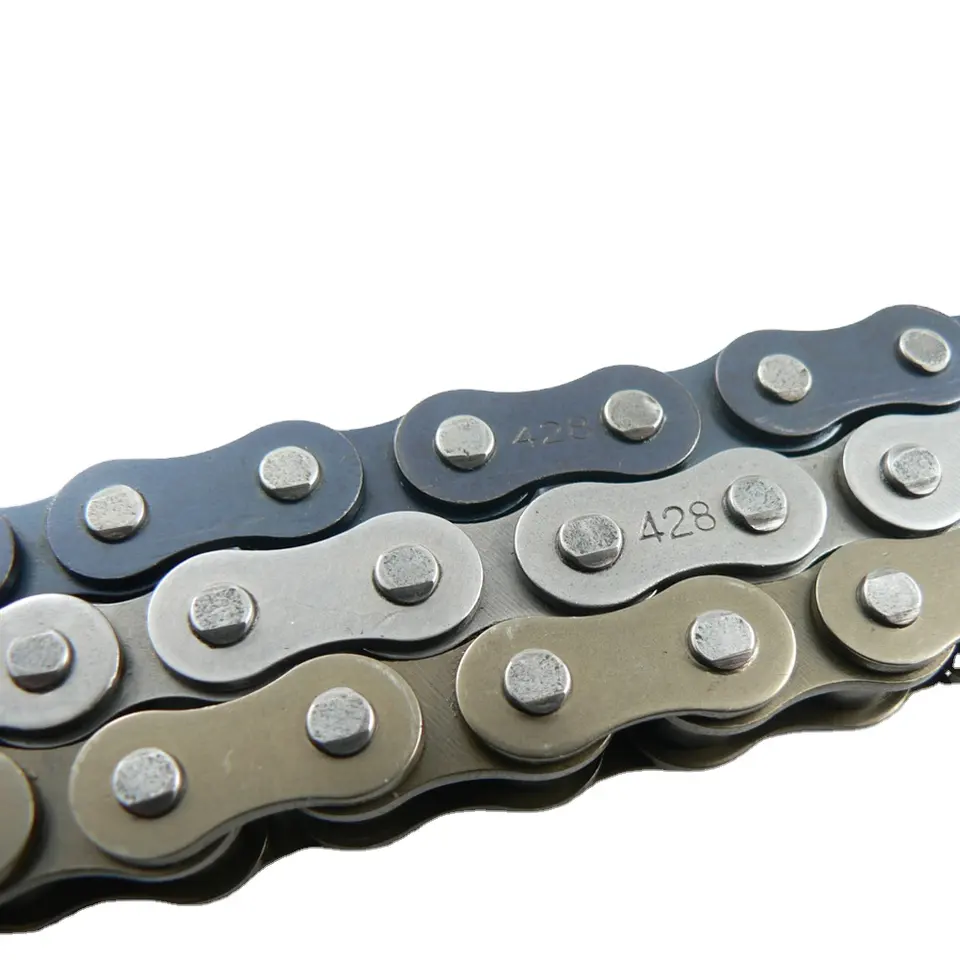 Can a motor chain be used in environments with high temperatures or humidity?
Yes, motor chains can be used in environments with high temperatures or humidity, but certain considerations need to be taken into account.
High Temperatures:
When operating in high-temperature environments, it is important to choose a motor chain that can withstand the elevated temperatures. Special heat-resistant materials, such as heat-treated steel or alloys, are often used for the construction of chains intended for high-temperature applications. These materials have superior heat resistance and can maintain their strength and performance even at elevated temperatures.
In addition to selecting the appropriate chain material, proper lubrication becomes even more critical in high-temperature environments. The lubricant used should have a high temperature rating to ensure adequate lubrication and prevent premature wear. Regular monitoring of the chain's condition and lubrication levels is essential to maintain its performance and minimize the effects of heat.
Humidity:
In humid environments, the risk of corrosion and rust formation on the motor chain increases. To address this, corrosion-resistant materials and coatings are commonly used for motor chains. Stainless steel chains or chains with special corrosion-resistant coatings provide better protection against moisture and humidity.
Proper maintenance and lubrication are also crucial in humid environments to prevent moisture from penetrating the chain and causing corrosion. Regular inspections, cleaning, and lubrication with corrosion-inhibiting lubricants can help extend the lifespan of the chain and maintain its performance.
It is important to note that while motor chains can be used in high-temperature or humid environments, their performance and lifespan can still be affected. It is recommended to consult the chain manufacturer for specific guidelines and recommendations regarding the use of motor chains in such conditions. Additionally, proper ventilation and environmental controls should be considered to minimize the impact of high temperatures or humidity on the chain's performance.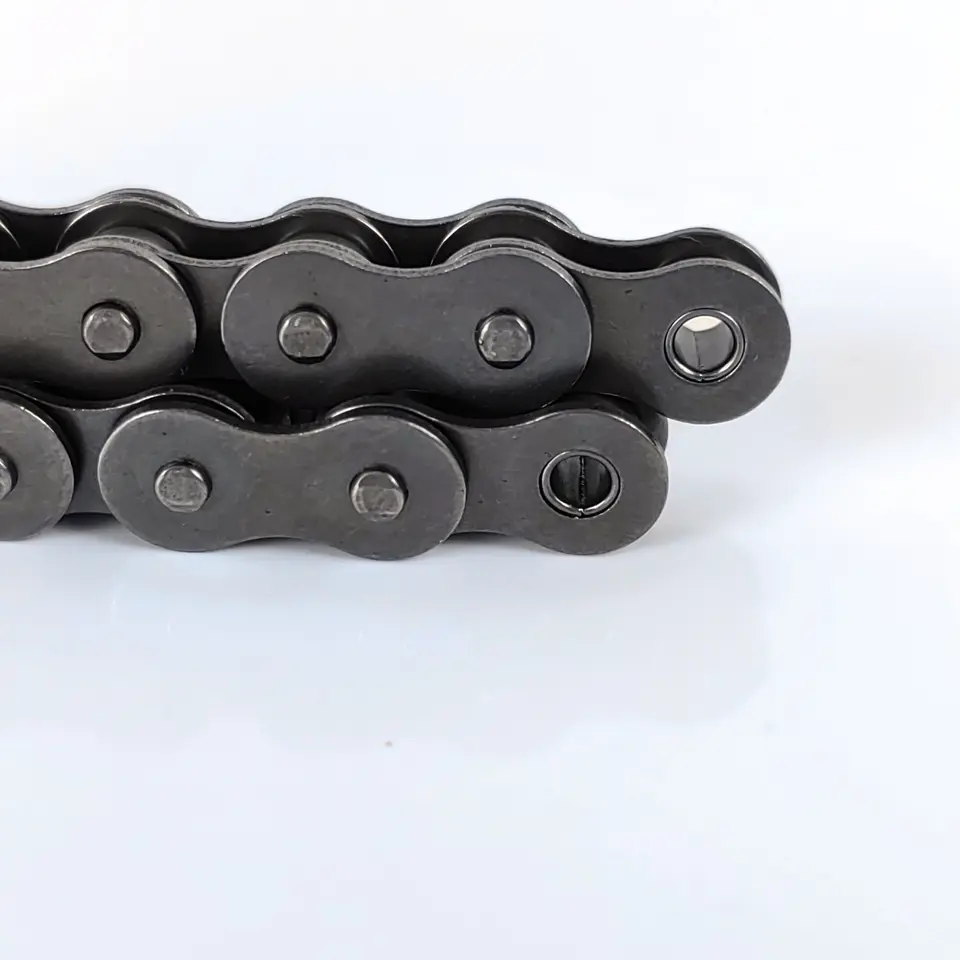 How do you properly lubricate and maintain a motor chain?
Proper lubrication and maintenance are essential for ensuring the optimal performance and longevity of a motor chain. Here are the steps to properly lubricate and maintain a motor chain:
1. Clean the chain: Before lubricating, clean the motor chain to remove any dirt, debris, or old lubricant. Use a suitable cleaning agent and a brush or cloth to gently scrub the chain. Ensure that the chain is completely dry before proceeding.
2. Choose the right lubricant: Select a lubricant specifically designed for motor chains. Consider factors such as the operating conditions, temperature, and load requirements when choosing the lubricant. Consult the manufacturer's recommendations or seek professional advice if necessary.
3. Apply the lubricant: Apply the lubricant evenly to the entire length of the motor chain. Use a suitable applicator or a spray bottle to ensure thorough coverage. Pay special attention to the contact points between the chain and the sprockets.
4. Remove excess lubricant: After applying the lubricant, allow it to penetrate the chain for a few minutes. Then, use a cloth or rag to wipe off any excess lubricant. This helps prevent the accumulation of dirt and debris on the chain.
5. Regular inspection: Regularly inspect the motor chain for signs of wear, corrosion, or damage. Look for elongation, cracked plates, damaged pins, or excessive play. If any issues are found, take appropriate action, such as replacing the chain or repairing the damaged components.
6. Tension adjustment: Check the tension of the motor chain regularly. Improper tension can cause excessive wear and reduce the chain's performance. Follow the manufacturer's guidelines or consult a professional to ensure proper tensioning.
7. Schedule maintenance: Establish a maintenance schedule for the motor chain. This includes regular cleaning, lubrication, inspection, and any necessary adjustments or replacements. Adhere to the schedule to keep the chain in optimal condition.
By following these steps and maintaining a regular maintenance routine, you can maximize the performance and service life of your motor chain.
How does a motor chain differ from a regular chain?
A motor chain, also known as a power transmission chain, differs from a regular chain in terms of its design and purpose. Here are the key differences:
1. Load Capacity: Motor chains are specifically designed to handle higher loads compared to regular chains. They are built to transmit power and motion between different components in mechanical systems.
2. Precision and Accuracy: Motor chains often have precise tooth profiles or roller systems that ensure accurate positioning and synchronization of components. This is important in applications such as engines, where precise timing is critical.
3. Durability and Strength: Motor chains are built to withstand heavy loads, high speeds, and continuous operation. They are constructed using high-quality materials and advanced manufacturing techniques to ensure durability and strength.
4. Lubrication and Maintenance: Motor chains may require specific lubrication to reduce friction and wear, ensuring smooth operation. Regular maintenance, such as periodic inspection and lubrication, is important to keep the chain in optimal condition.
5. Application-Specific Design: Motor chains are designed for specific applications, such as power transmission in engines, conveyor systems, or lifting equipment. They are engineered to meet the unique requirements of these applications, considering factors such as load capacity, speed, environment, and operational conditions.
It's important to note that while motor chains are designed for specific applications, they may have similarities with regular chains in terms of basic construction and functionality. However, motor chains are engineered to handle higher loads, provide precise motion transmission, and ensure reliable performance in demanding industrial settings.



editor by CX 2023-10-20