Product Description
Machinery Marine Made-to-order ANSI OR DIN Driving Sprocket Chain (C2042X12T)
 
Product Description

1. Produce strictly in accordance with ANSI or DIN standard dimension
2. Material: C45 steel / Stainless Steel 304 & 316
3. Standard: ANSI, DIN, JINS, ISO, Standard America or customer drawing
4. Pilot bore, finished bore, taper bore and special bore.
5. Bright surface and high precision
6. Advanced heat treatment and surface treatment craft
7. Best quality and competitive price.
8. Welcome OEM / ODM 
9. Application: Sprocket is mainly used in wood conveyor, conveying machinery, agricultural machinery, etc.
10. Processing equipment: Hobbing machine, Slotting machine, CNC lathes and other equipment.
11. Sprocket models: Contains special sprocket according to customer's drawings, standard sprocket (American standard and metric).
Product name 
DIN 8187 Corrosion Resistance Sprocket (C2042X12T)
Materials Available 
1. Stainless Steel: SS304, SS316, etc
2. Alloy Steel: C45, 45Mn, 42CrMo, 20CrMo, etc
3. OEM according to your request
Surface Treatment
Heat treatment, Quenching treatment, High frequency normalizing treatment, Polishing, Electrophoresis paint processing, Anodic oxidation treatment, etc
Characteristic
Fire resistant, Oil resistant, Heat resistant, CHINAMFG resistance, Oxidative resistance, Corrosion resistance, etc
Design criterion
ISO DIN ANSI & Customer Drawings
Size
Customer Drawings & ISO standard 
Application
Industrial transmission equipment
Package
Wooden Case / Container and pallet, or made-to-order
Certificate
ISO9001: 2008 
Advantage
Quality first, Service first, Competitive price, Fast delivery
Delivery Time
20 days for samples. 45 days for official order.
View more products,please click here…
Detailed Photos
Company Profile
| | |
| --- | --- |
| Standard Or Nonstandard: | Nonstandard |
| Application: | Machinery, Marine, Agricultural Machinery, Pump Motor Sprocket |
| Hardness: | Hardened Tooth Surface |
| Material: | Alloy Steel/Stainless Steel |
| Type: | Sprocket |
| Sample: | for Free |
Samples:

US$ 0/Piece

1 Piece(Min.Order)

|
Request Sample
Customization:

Available

|

Customized Request
Can a motor chain be used in vertical motion applications?
Yes, a motor chain can be used in vertical motion applications. Vertical motion refers to applications where the chain is responsible for lifting or lowering loads vertically. Motor chains are commonly used in various vertical motion systems, such as elevators, vertical conveyors, lifting mechanisms, and overhead cranes.
When using a motor chain for vertical motion, it is important to consider the following factors:
1. Load Capacity:
Ensure that the motor chain has sufficient load-carrying capacity to handle the weight of the load being lifted or lowered. It is crucial to select a chain with a suitable working load limit to ensure safe and efficient operation.
2. Tensioning and Alignment:
Proper tensioning and alignment of the motor chain are critical in vertical motion applications. The chain should be adequately tensioned to prevent excessive slack or sag, which can affect its performance and increase the risk of derailment.
3. Safety Mechanisms:
Implement appropriate safety mechanisms, such as limit switches or overload protection devices, to ensure safe operation and prevent accidents in vertical motion applications. These mechanisms help detect and respond to abnormal conditions, such as excessive load or chain tension.
4. Lubrication and Maintenance:
Regular lubrication and maintenance are essential for the proper functioning and longevity of the motor chain in vertical motion applications. Ensure that the chain is properly lubricated to minimize friction and wear.
5. Compliance with Regulations:
Ensure that the motor chain and associated components comply with relevant safety and industry regulations for vertical motion applications. This includes adherence to standards and guidelines for load capacity, materials, design, and installation.
By considering these factors and following proper installation and maintenance practices, a motor chain can be effectively used in vertical motion applications, providing reliable and efficient performance.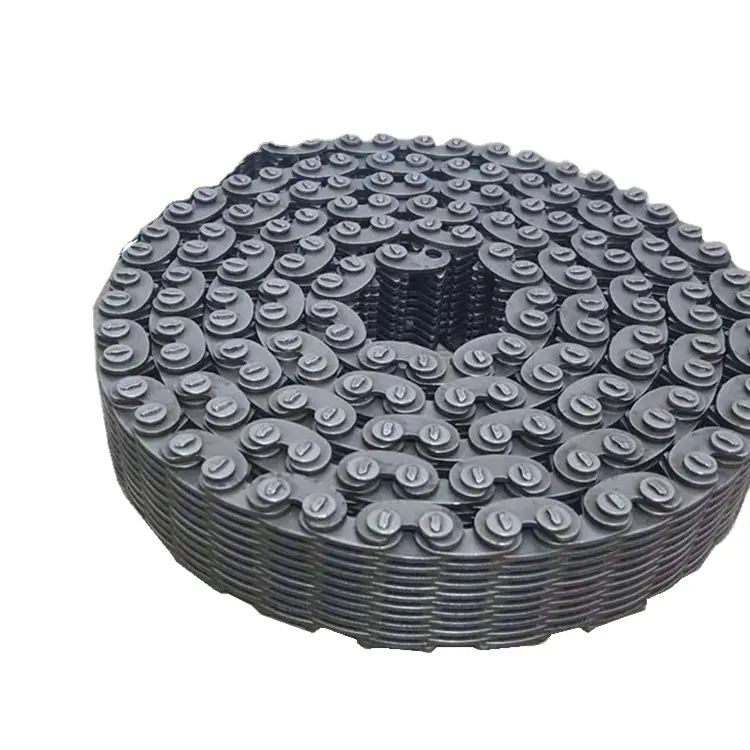 Can a motor chain be used for high-speed applications?
Yes, motor chains can be used for high-speed applications depending on their design and specifications. Here are some factors to consider:
1. Chain Speed Rating: Motor chains are typically rated for specific maximum speeds. It is important to choose a motor chain that has a speed rating suitable for your application. Higher speed ratings indicate that the chain is designed to handle faster rotational speeds without compromising performance or safety.
2. Chain Design: Motor chains for high-speed applications are often designed with features to reduce friction and minimize the effects of centrifugal forces. This may include precision machining, specialized coatings, and optimized lubrication systems. These design considerations help maintain chain stability and performance at high speeds.
3. Lubrication: Proper lubrication is crucial for high-speed motor chain applications. It helps reduce friction, heat, and wear, ensuring smooth operation at elevated speeds. Selecting the appropriate lubricant and establishing a regular lubrication schedule are essential for maximizing the performance and lifespan of the motor chain.
4. Chain Tension: Maintaining proper chain tension is important for high-speed applications. Excessive slack or excessive tension can lead to performance issues, increased wear, and potential chain failure. It is necessary to follow the manufacturer's guidelines for tensioning the motor chain and regularly check and adjust the tension as needed.
5. Sprocket Design: The design and quality of the sprockets that engage with the motor chain are also crucial for high-speed applications. High-speed sprockets should be precisely machined, balanced, and durable to ensure smooth and reliable power transmission.
It is important to consult the manufacturer's specifications and guidelines when selecting a motor chain for high-speed applications. They can provide detailed information on the chain's speed capabilities and any specific considerations for optimal performance at high speeds. By choosing the appropriate motor chain and implementing proper maintenance practices, it is possible to use motor chains effectively in high-speed applications.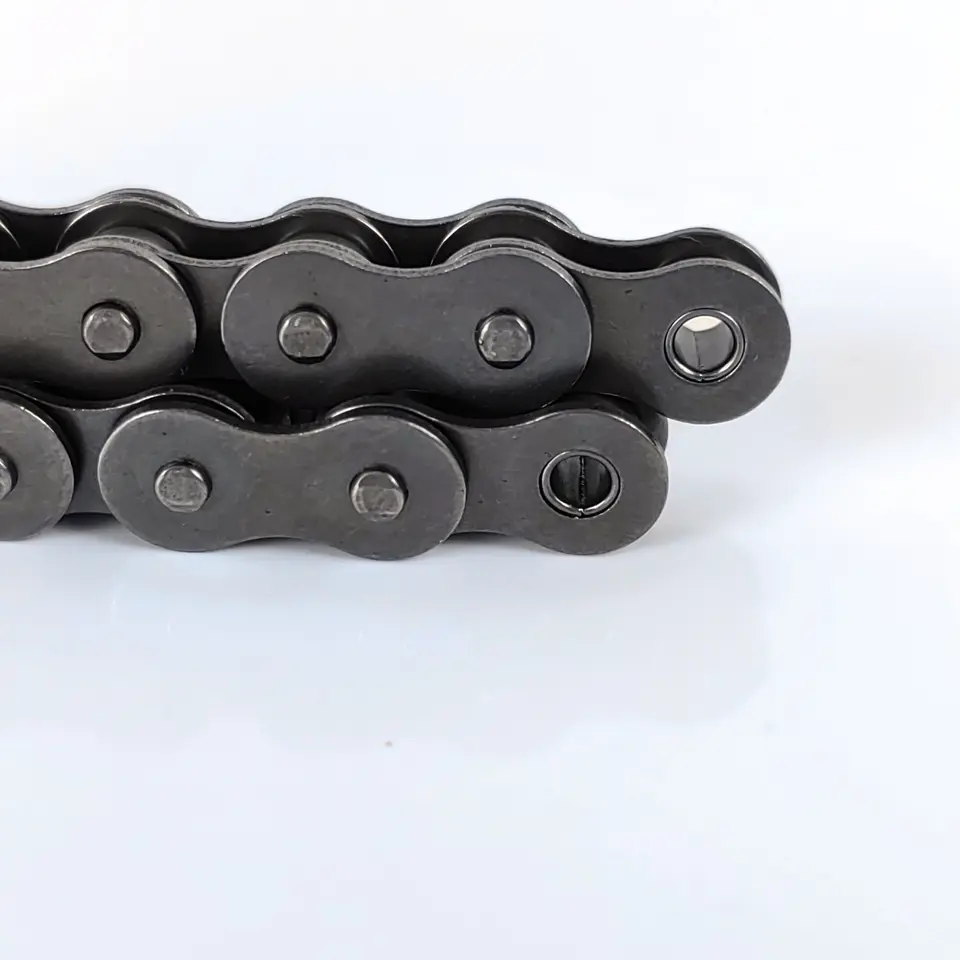 What are the different types of motor chains available?
Motor chains come in various types, each designed to meet specific requirements of different applications. Here are some common types of motor chains:
1. Roller Chains: Roller chains are the most common type of motor chain. They consist of inner and outer plates connected by rollers. These chains are known for their high strength, durability, and ability to handle heavy loads. Roller chains are widely used in industries such as automotive, industrial machinery, and agriculture.
2. Silent Chains: Silent chains, also known as inverted-tooth chains, feature tooth-shaped plates that engage with each other. They provide smooth and quiet operation, making them suitable for applications requiring low noise levels. Silent chains are commonly used in precision machinery, printing presses, and automotive timing systems.
3. Leaf Chains: Leaf chains have flat, interlocking plates connected by pins. They are primarily used in lifting and hoisting applications, such as forklifts and cranes. Leaf chains are known for their high tensile strength and resistance to fatigue.
4. Conveyor Chains: Conveyor chains are specifically designed for conveying materials in conveyor systems. They feature large, wide plates to support the load and provide smooth movement. Conveyor chains are used in industries such as mining, food processing, and packaging.
5. Timing Chains: Timing chains are used in engines to synchronize the rotation of the crankshaft and camshaft. They have precise tooth profiles that ensure accurate timing of valve operation. Timing chains are commonly found in automotive engines and other internal combustion engines.
6. Specialty Chains: There are also specialized motor chains designed for specific applications. Examples include escalator chains, bicycle chains, motorcycle chains, and marine chains.
Motor chains are available in different sizes, materials, and configurations to suit specific requirements. It is important to select the appropriate chain type based on factors such as load capacity, speed, environment, and application-specific needs.



editor by CX 2023-10-11