Warranty: 3months-1year
Model Number: YL90-750R-4P
Type: Asynchronous Motor
Frequency: 50HZ
Phase: Single-phase
Protect Feature: IP44
AC Voltage: 220v
Efficiency: IE 2
Power: 0.75kW/1hp
Voltage: 220v
Current: 5.1A
Speed: 1400r/min
L*H: 330mm*202mm
Weight: 19kg
Flatwise ground height: 90mm
Bearing diameter: 24mm
Expose length of bearing: 50mm
Certification: CCC,ce,ISO9001
Packaging Details: Internal foam packaging, external wooden case packaging.
1400 1430 rpm single phase electric motor1.Caring has hundreds of intelligent processing equipment.2.Caring has passed the ISO9001 management system certification.Electric motor obtains the corresponding CCC certificate.3.Caring Has won more than 30 national technology patents and several provincial honors.cutting pump gains national invention patents.
Single-phase ordinary motor of YL90 4-pole (1400 rpm) series has 750W, 1100W, 1600W, 1800W, 2200W models. Stator, rotor, shaft, bearing, centrifugal switch and other key parts are selected high-quality large-scale products, using 100% pure copper core winding, strictly in accordance with the national standard process manufacturing, power is not substandard, full horsepower, strong power, stable performance, durable!
Parameters of Matching Motor for Commonly Used Equipment
NumberEquipmentOut put (Kw)Speed (r/min)NumberEquipmentOut put (Kw)Speed (r/min)1
Rice beater 2.2 or 3.0 28007ShaffcutterAmple power 3.571002Bench saw 1.5 or 2.2 28008Sucking CZPT machine3.0
14003Dough mixer 2.2 or 3.014009Rolling shutter2.214004Car washer 2.2 or 3.014571Cutting machine2.228005Pesticide sprayer 2.2 or 3.0 140011Corn grinder0.7528006Shredding machine 2.2 or 3.0 280012Air compressor2.22800
1.Seiko bearingsAntirust and moistureproof abrasion resistance, high-speed operation of the machine is still smoothly and quiet
2.High-quality stator and rotorHigh quality cold rolled silicon steel sheet,high hardness ,strong power high efficiency and long service life,shaft with high frequency quenching
3.High quality lacquer surfacePure high quality paint ,360 degree protection motor ,cast iron barrel, strong and durable.4.Pure copper corePure copper core/machine winding, strong binding, winding using F-grade oxygen-free copper wire, high temperature resistance, long life, not easy to damage, the ordinary enameled wire is not compared with it.
Other Types of Intelligent Motor
ModelOut putVoltageFrequencyQT of capacitanceCurrentSpeedweightKwHpYL90-750R-4P0.751220v50HZ25.1A1400r/min17kgYL90-1100R-4P1.11.5220v50HZ27.1A1400r/min18kgYL90-1500R-4P1.52220v50HZ29.44A1400r/min20kgYL90-1800R-4P1.82.5220v50HZ211.3A1400r/min23kg YL90-750R-2P0.751220v50HZ25.1A2800r/min16kgYL90-1100R-2P1.11.5220v50HZ27.1A2800r/min17kgYL90-1600R-2P1.62220v50HZ29.44A2800r/min29kgYL90-1800R-2P1.82.5220v50HZ211.3A2800r/min21kgYL90-2200R-2P2.23220v50HZ213.6A2800r/min22kg YL100-2300R-2P2.33220v50HZ213.9A2800r/min26kgYL100-2600R-2P2.63.5220v50HZ215.8A2800r/min27kgYL100-3000R-2P34220v50HZ217.2A2800r/min28kgYL100-3500R-2P3.54.8220v50HZ219.8A2800r/min31kg YL100-2200R-4P2.23220v50HZ213.6A1400r/min31kgYL100-3000R-4P34220v50HZ217.2A1400r/min33kgTips:
1.Notice:above the every model has corresponding electric motor(with flange plate)
If need to purchase the above model or have any other requirement,please seek advice from custom service; The parameter of technology are updated at anytime.
Warning
Please confim the machine earthing before operation and connecting the electrical leakage protector
Motor with thermal protector,in order to ensure the safty of operation when it stops automatically,it is nacessary to cut off the power supply.
More product
Company Information
ZheJiang CZPT Mechanical and Electrical Co.,LTD, which is founded in 2011, is a professional manufacturer engaged in the research, development, production, sale and service of small motors and pumps. It is located in Liangfeng village,Sansu township,Xihu (West Lake) Dis.po district ,HangZhou city,ZheJiang province. The company , covering more than 35,000 square meters, has more than 100 employees and many advanced production equipment. Jianeng's products includes motor, submersible pump, sewage pump, double – knife cutting pump. All kinds of products are well sold in many cities and provinces around China and have won good praise from all users and dealer for the best quality and service. In addition, CZPT has passed ISO9001:2015 certification and CCC certification, and obtained more than 10 related patent certificates. What's more important, in recent years, our company has introduced a series of advanced equipment and has produced more good products to meet the different requirements of different customers. So there's always 1 kind of product for you. Even though we have our own brand "Caring", OEM and ODM orders are also welcome."High quality, integrity, innovation, and win-win" is our business philosophy, our aim is offer best service and excellent quality products. CZPT is expecting CZPT cooperation with customers from all over the world.
Why choose us
1.Caring has passed the ISO9001 management system certification.2.Electric motor strictly enforce national standards obtaining the corresponding CCC certification.3.More than 17 years of industry experience.
FAQ
1.What's your factory main products?We produce water pumps, especially sewage pump and double-balde cutting pump, and AC motor.
2.Are you a manufacturer ?We are a manufacturer.
3.How long would it take to receive your goods?About 2 weeks after payment.
4.Can you do OEM?Yes, of course. Any OEM are welcomed!
5.How can I get more product quotation?Please click the below linkage.
The Basics of a Planetary Motor
A Planetary Motor is a type of gearmotor that uses multiple planetary gears to deliver torque. This system minimizes the chances of failure of individual gears and increases output capacity. Compared to the planetary motor, the spur gear motor is less complex and less expensive. However, a spur gear motor is generally more suitable for applications requiring low torque. This is because each gear is responsible for the entire load, limiting its torque.
Self-centering planetary gears
This self-centering mechanism for a planetary motor is based on a helical arrangement. The helical structure involves a sun-planet, with its crown and slope modified. The gears are mounted on a ring and share the load evenly. The helical arrangement can be either self-centering or self-resonant. This method is suited for both applications.
A helical planetary gear transmission is illustrated in FIG. 1. A helical configuration includes an output shaft 18 and a sun gear 18. The drive shaft extends through an opening in the cover to engage drive pins on the planet carriers. The drive shaft of the planetary gears can be fixed to the helical arrangement or can be removable. The transmission system is symmetrical, allowing the output shaft of the planetary motor to rotate radially in response to the forces acting on the planet gears.
A flexible pin can improve load sharing. This modification may decrease the face load distribution, but increases the (K_Hbeta) parameter. This effect affects the gear rating and life. It is important to understand the effects of flexible pins. It is worth noting that there are several other disadvantages of flexible pins in helical PGSs. The benefits of flexible pins are discussed below.
Using self-centering planetary gears for a helical planetary motor is essential for symmetrical force distribution. These gears ensure the symmetry of force distribution. They can also be used for self-centering applications. Self-centering planetary gears also guarantee the proper force distribution. They are used to drive a planetary motor. The gearhead is made of a ring gear, and the output shaft is supported by two ball bearings. Self-centering planetary gears can handle a high torque input, and can be suited for many applications.
To solve for a planetary gear mechanism, you need to find its pitch curve. The first step is to find the radius of the internal gear ring. A noncircular planetary gear mechanism should be able to satisfy constraints that can be complex and nonlinear. Using a computer, you can solve for these constraints by analyzing the profile of the planetary wheel's tooth curve.


High torque
Compared to the conventional planetary motors, high-torque planetary motors have a higher output torque and better transmission efficiency. The high-torque planetary motors are designed to withstand large loads and are used in many types of applications, such as medical equipment and miniature consumer electronics. Their compact design makes them suitable for small space-saving applications. In addition, these motors are designed for high-speed operation.
They come with a variety of shaft configurations and have a wide range of price-performance ratios. The FAULHABER planetary gearboxes are made of plastic, resulting in a good price-performance ratio. In addition, plastic input stage gears are used in applications requiring high torques, and steel input stage gears are available for higher speeds. For difficult operating conditions, modified lubrication is available.
Various planetary gear motors are available in different sizes and power levels. Generally, planetary gear motors are made of steel, brass, or plastic, though some use plastic for their gears. Steel-cut gears are the most durable, and are ideal for applications that require a high amount of torque. Similarly, nickel-steel gears are more lubricated and can withstand a high amount of wear.
The output torque of a high-torque planetary gearbox depends on its rated input speed. Industrial-grade high-torque planetary gearboxes are capable of up to 18000 RPM. Their output torque is not higher than 2000 nm. They are also used in machines where a planet is decelerating. Their working temperature ranges between 25 and 100 degrees Celsius. For best results, it is best to choose the right size for the application.
A high-torque planetary gearbox is the most suitable type of high-torque planetary motor. It is important to determine the deceleration ratio before buying one. If there is no product catalog that matches your servo motor, consider buying a close-fitting high-torque planetary gearbox. There are also high-torque planetary gearboxes available for custom-made applications.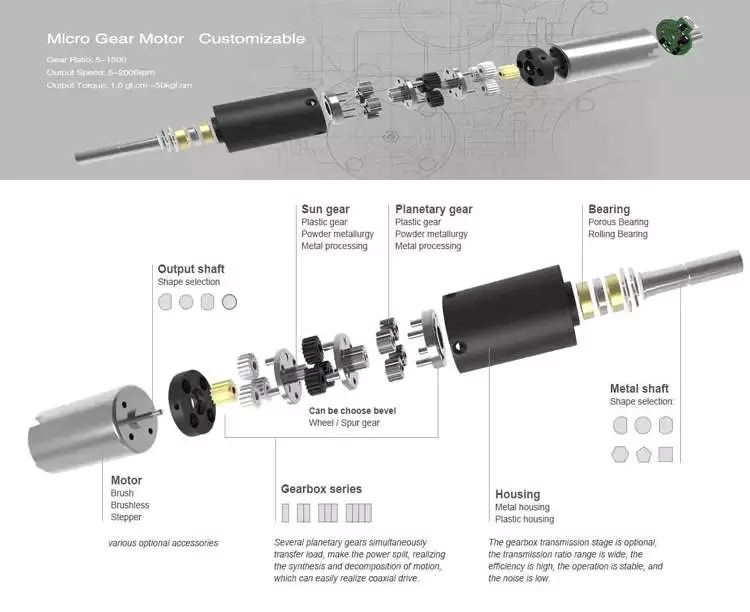 High efficiency
A planetary gearbox is a type of mechanical device that is used for high-torque transmission. This gearbox is made of multiple pairs of gears. Large gears on the output shaft mesh with small gears on the input shaft. The ratio between the big and small gear teeth determines the transmittable torque. High-efficiency planetary gearheads are available for linear motion, axial loads, and sterilizable applications.
The AG2400 high-end gear unit series is ideally matched to Beckhoff's extensive line of servomotors and gearboxes. Its single-stage and multi-stage transmission ratios are highly flexible and can be matched to different robot types. Its modified lubrication helps it operate in difficult operating conditions. These high-performance gear units are available in a wide range of sizes.
A planetary gear motor can be made of steel, nickel-steel, or brass. In addition to steel, some models use plastic. The planetary gears share work between multiple gears, making it easy to transfer high amounts of power without putting a lot of stress on the gears. The gears in a planetary gear motor are held together by a movable arm. High-efficiency planetary gear motors are more efficient than traditional gearmotors.
While a planetary gear motor can generate torque, it is more efficient and cheaper to produce. The planetary gear system is designed with all gears operating in synchrony, minimizing the chance of a single gear failure. The efficiency of a planetary gearmotor makes it a popular choice for high-torque applications. This type of motor is suitable for many applications, and is less expensive than a standard geared motor.
The planetary gearbox is a combination of a planetary type gearbox and a DC motor. The planetary gearbox is compact, versatile, and efficient, and can be used in a wide range of industrial environments. The planetary gearbox with an HN210 DC motor is used in a 22mm OD, PPH, and ph configuration with voltage operating between 6V and 24V. It is available in many configurations and can be custom-made to meet your application requirements.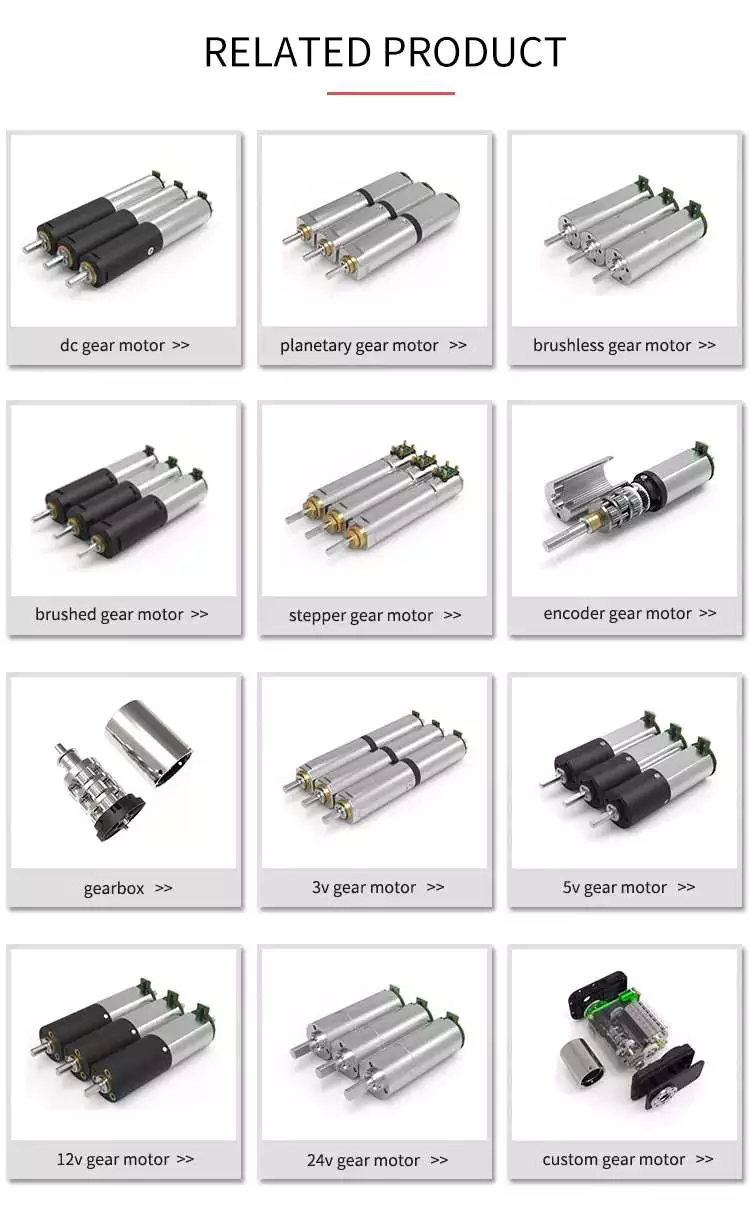 High cost
In general, planetary gearmotors are more expensive than other configurations of gearmotors. This is due to the complexity of their design, which involves the use of a central sun gear and a set of planetary gears which mesh with each other. The entire assembly is enclosed in a larger internal tooth gear. However, planetary motors are more effective for higher load requirements. The cost of planetary motors varies depending on the number of gears and the number of planetary gears in the system.
If you want to build a planetary gearbox, you can purchase a gearbox for the motor. These gearboxes are often available with several ratios, and you can use any one to create a custom ratio. The cost of a gearbox depends on how much power you want to move with the gearbox, and how much gear ratio you need. You can even contact your local FRC team to purchase a gearbox for the motor.
Gearboxes play a major role in determining the efficiency of a planetary gearmotor. The output shafts used for this type of motor are usually made of steel or nickel-steel, while those used in planetary gearboxes are made from brass or plastic. The former is the most durable and is best for applications that require high torque. The latter, however, is more absorbent and is better at holding lubricant.
Using a planetary gearbox will allow you to reduce the input power required for the stepper motor. However, this is not without its downsides. A planetary gearbox can also be replaced with a spare part. A planetary gearbox is inexpensive, and its spare parts are inexpensive. A planetary gearbox has low cost compared to a planetary motor. Its advantages make it more desirable in certain applications.
Another advantage of a planetary gear unit is the ability to handle ultra-low speeds. Using a planetary gearbox allows stepper motors to avoid resonance zones, which can cause them to crawl. In addition, the planetary gear unit allows for safe and efficient cleaning. So, whether you're considering a planetary gear unit for a particular application, these gear units can help you get exactly what you need.