Product Description
1)Type
roller chain
2)Materials
A class steel 
3)Chain No.
428H-O
4)Warranty
above 30000KMs
5)Process
High speed impact, heat treatment, Pre-stretching and running
Four sides riveting, Lubricate with Grease
6)MOQ
500 Pcs
7)Supply Ability
100000 Meter/Meters per year
8)Tensile Strength/Hardness
standard or above
9)Delivery Time
within 30 days after receiving your 30% deposits
10)Payment Terms
L/C,T/T
11)Packing
chains packing in standard export carton, also can packing as your requirement
Our Services
Pre-sales:
1. OEM &ODM service
2. Any of your kind inquiry would be replied within 24 hours.
3. Complete product information will be offered
4. Free sample will be sent if you need .
5. Any other reasonable requirements as per requested
 
During production ,we provide:
1. Schedule of production
2. Mass production picture will offered
3. Any other reasonable requirements as per requested
 
Finish production:
1. Courier tracking number
2. Documents you need 
3. Protection of your sales area, ideas of design and all your private information.
FAQ:
Q1: Do you inspect the finished products?
A: Yes, each step of production and finished products will be carried out inspection by QC departing before shipping.
Q2: What's the warranty of your products?
A: Usually we guarantee one year after delivery date, but depending on the specified product.
Q3: Are you manufacturer or Trade Company?
A: Both we are. We have been in motorcycle parts for nearly 20 years.
Q4: How to visit factory?
A: Leave us a message, and we will pick you up by car for free.
Q5: Can you do custom logo on the chain?
A: Yes,we can do custom logos by molding. Need your Authorization Letter.
| | |
| --- | --- |
| Type: | Chain |
| Material: | Steel |
| Certification: | ISO9001:2001 |
| Number of Row: | Single Row |
| Surface Treatment: | Sand Blasting, Oiling |
| Transport Package: | Polybag + Color Box + Carton |
Samples:

US$ 0/Piece

1 Piece(Min.Order)

|
Request Sample
Customization:

Available

|

Customized Request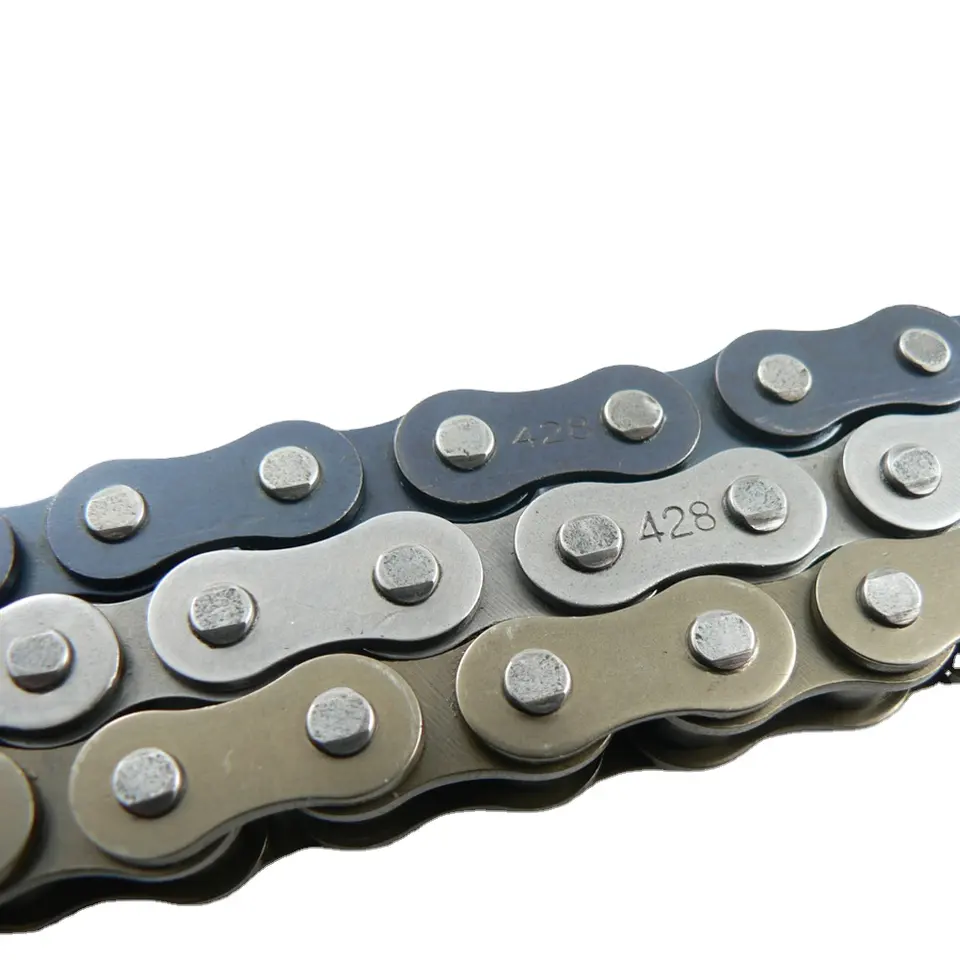 Can a motor chain be used in environments with high temperatures or humidity?
Yes, motor chains can be used in environments with high temperatures or humidity, but certain considerations need to be taken into account.
High Temperatures:
When operating in high-temperature environments, it is important to choose a motor chain that can withstand the elevated temperatures. Special heat-resistant materials, such as heat-treated steel or alloys, are often used for the construction of chains intended for high-temperature applications. These materials have superior heat resistance and can maintain their strength and performance even at elevated temperatures.
In addition to selecting the appropriate chain material, proper lubrication becomes even more critical in high-temperature environments. The lubricant used should have a high temperature rating to ensure adequate lubrication and prevent premature wear. Regular monitoring of the chain's condition and lubrication levels is essential to maintain its performance and minimize the effects of heat.
Humidity:
In humid environments, the risk of corrosion and rust formation on the motor chain increases. To address this, corrosion-resistant materials and coatings are commonly used for motor chains. Stainless steel chains or chains with special corrosion-resistant coatings provide better protection against moisture and humidity.
Proper maintenance and lubrication are also crucial in humid environments to prevent moisture from penetrating the chain and causing corrosion. Regular inspections, cleaning, and lubrication with corrosion-inhibiting lubricants can help extend the lifespan of the chain and maintain its performance.
It is important to note that while motor chains can be used in high-temperature or humid environments, their performance and lifespan can still be affected. It is recommended to consult the chain manufacturer for specific guidelines and recommendations regarding the use of motor chains in such conditions. Additionally, proper ventilation and environmental controls should be considered to minimize the impact of high temperatures or humidity on the chain's performance.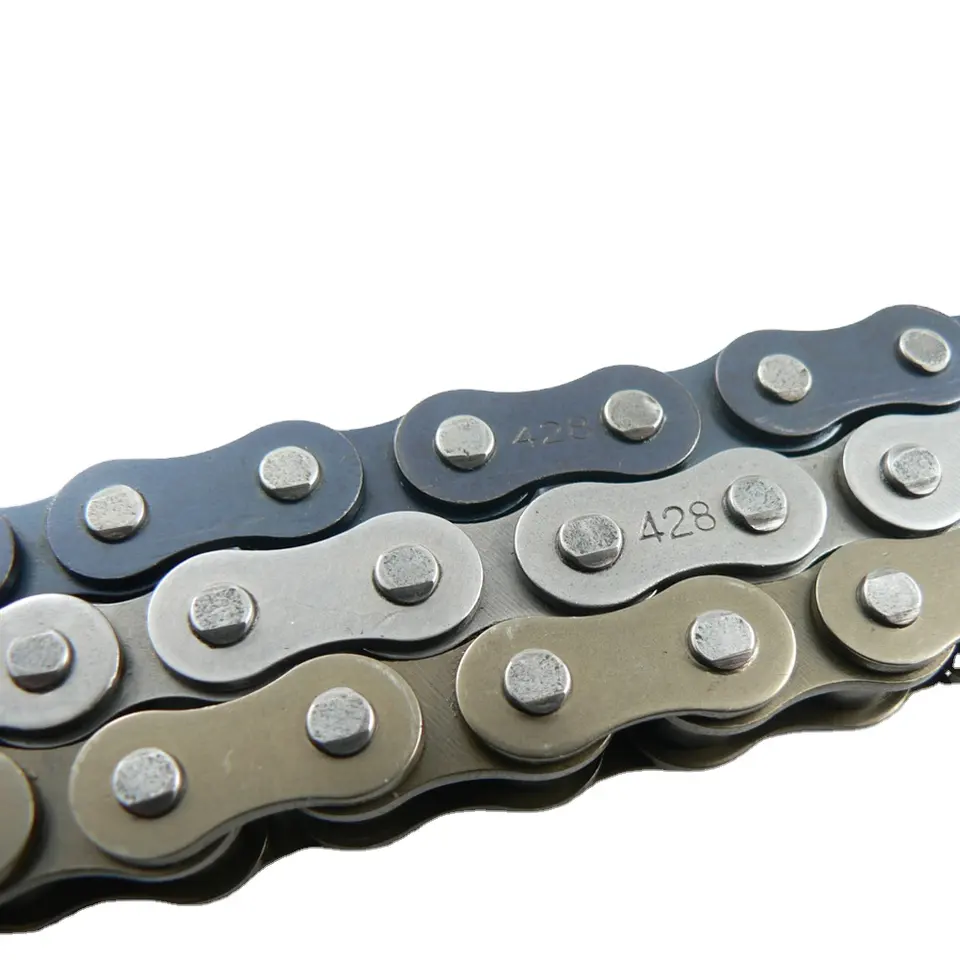 What are the advantages of using a motor chain in power transmission?
Using a motor chain in power transmission offers several advantages:
1. High Efficiency: Motor chains are designed to transmit power efficiently from the motor to the driven equipment. They minimize energy losses and ensure maximum power transfer, resulting in high overall system efficiency.
2. Reliable Power Transmission: Motor chains provide a reliable means of transmitting power in various applications. They have high load-bearing capabilities and can handle both high torque and high-speed operations, making them suitable for a wide range of industrial processes.
3. Compact Design: Motor chains have a compact design, which allows for efficient power transmission in tight spaces. They can be easily integrated into machinery and equipment without occupying excessive space.
4. Precise Speed Control: Motor chains enable precise speed control of the driven equipment. By selecting the appropriate chain size and gear ratio, you can achieve the desired speed and maintain consistent operation, essential in applications that require precise motion control.
5. Versatility: Motor chains are versatile and can be used in various power transmission systems, including conveyor systems, automotive assembly lines, industrial machinery, and more. They can accommodate different loads, speeds, and operating conditions.
6. Durability and Longevity: Motor chains are designed to withstand heavy-duty applications and harsh operating environments. They are made from high-quality materials, such as alloy steel, that provide excellent strength, wear resistance, and durability, ensuring a long service life.
7. Easy Maintenance: Motor chains typically require minimal maintenance. Regular lubrication and periodic inspection are usually sufficient to keep them in optimal operating condition. This ease of maintenance contributes to the overall cost-effectiveness of using motor chains.
Overall, using a motor chain in power transmission systems offers reliable and efficient power transfer, precise speed control, versatility, and long-term durability. These advantages make motor chains a popular choice in various industries for transmitting power from motors to driven equipment.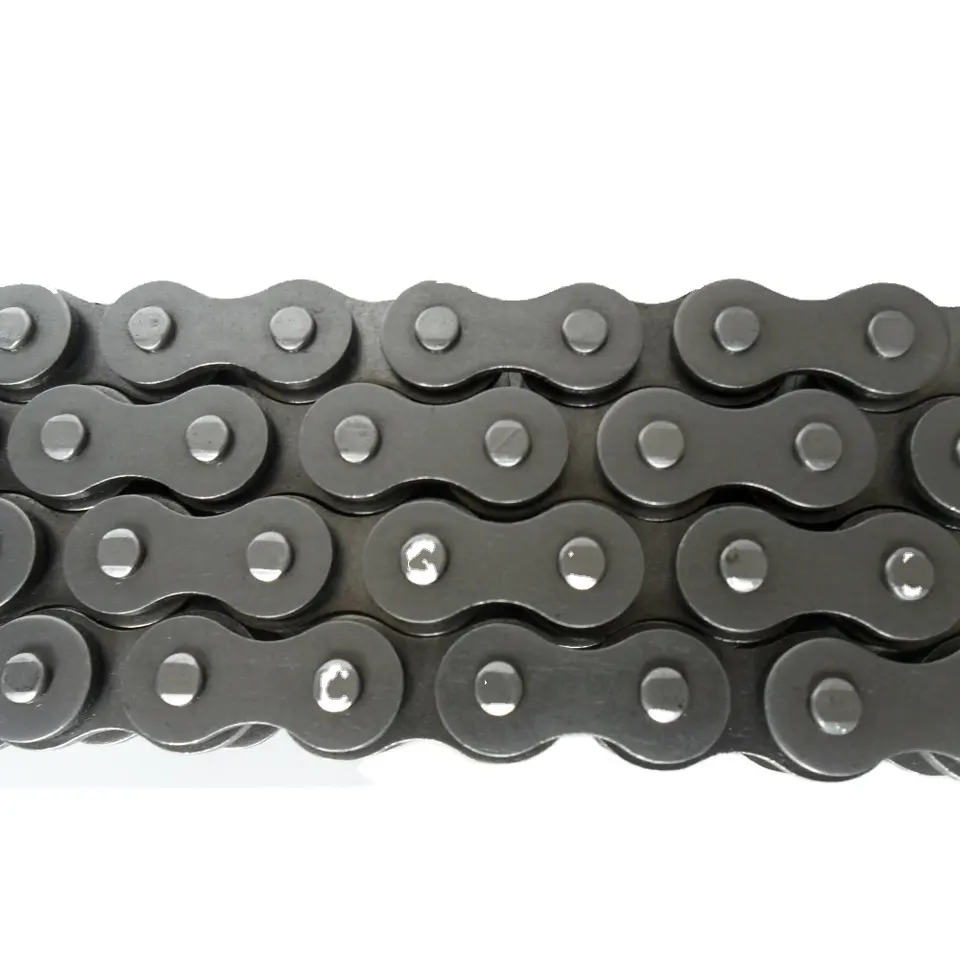 How do you select the right motor chain for a specific motor?
When selecting a motor chain for a specific motor, there are several factors to consider. Here is a step-by-step guide:
1. Determine the motor specifications: Start by understanding the motor's power rating, speed, and torque requirements. This information will help you choose a motor chain that can handle the motor's power output and torque demands.
2. Identify the application requirements: Consider the specific application in which the motor will be used. Determine if the motor will be subjected to high loads, high speeds, or harsh environmental conditions. This will help you select a motor chain that is suitable for the application's demands.
3. Determine the chain type: Motor chains come in various types, including roller chains, silent chains, bush chains, and more. Each chain type has its own characteristics and performance capabilities. Select a chain type that aligns with the requirements of the motor and application.
4. Calculate the chain size: Determine the required chain size based on the motor's power and torque requirements. Consider factors such as pitch size, roller diameter, and number of chain links. Manufacturers typically provide chain size charts or calculation tools to assist in selecting the right chain size.
5. Consider the environmental factors: Take into account the environmental conditions in which the motor will operate. If the motor is exposed to moisture, chemicals, high temperatures, or other harsh elements, choose a motor chain with appropriate corrosion resistance, temperature resistance, and durability.
6. Consult manufacturer recommendations: Consult the motor manufacturer's recommendations or specifications to identify any specific requirements or restrictions for motor chains. They may provide guidance on compatible chain types, lubrication requirements, and maintenance recommendations.
7. Evaluate cost and availability: Consider the cost and availability of the selected motor chain. Evaluate factors such as initial cost, maintenance requirements, and the availability of spare parts or replacements.
By considering these factors and conducting thorough research, you can select the right motor chain that matches the motor's specifications, application requirements, and environmental conditions. It is recommended to consult with motor and chain manufacturers or industry experts for further guidance and assistance.



editor by CX 2023-09-01