Product Description
Product Description
1 Good quality with competitive prices.
2 For Free Samples
3 Prompt delivery
4 International Approvals
Model: Motorcycle chain: 25H. 420.420H. 428.428H. 520.520H. 525.525H. 530.630…
O-ring motorcycle chain: 420OR, 428HVS. 520OR. 520HOR. 530HOR…
Colors available: Natural, yellow, blue, black, gold. White
Finishes: Nickel plated, zinc plated, copper plated
Product Attribute
| | |
| --- | --- |
| Material | Alloy/Carbon Steel |
| Surface Treatment | Electroplating |
| Motor Type | Frequency Control Motor |
| Installation | Turning |
| Structure (for Chain) | Rings Chain |
| Usage | Transmission Chain |
| Color | Solid Color |
| port | ZheJiang |
| payment | L/C, T/T, D/P, Western Union |
| package | Wooden Cases |
Detailed Photos
Product Parameters
Certifications
Our Advantages
WHY CHOOSE US
Comprehensive Product Portfolio We produce and supply a wide range of power transmission
products including drive chains, leaf chains, conveyor chains, agricultural chains, sprockets, and
couplings. This one-store-for-all shopping experience will significantly reduce your searching costs while
guarantee youfind what you want at 1 click.
Value Choice Products Our products are the best combination of quality and price, and you get what
you want within your budgets
Seasoned Sales Associates and Engineers We have 15 seasoned sales associates and 5 engineers;
on our team at your disposal any time when you need a helping hand. They are well trained with industry
know-now and will always respond to your requests within 24 hours.
100% Customer Retention Rate Our regular customers from overseas come back not just for our
premium quality products, but for the superior services that we've provided over the years.
FAQ
Q1: What's your average lead time?
A: It varies. Our regular end-to-end lead time is 1-2 months.. We also provide express shipments for rush orders. For details,please consult our sales associate.
Q2: Is your price better than your competitors given the same quality?
A: Definitely YES. We provide the most competitive price in the power transmission industry. If price disparity exists, we'll be more than happy to do a price match.
Q3: Can you make chains according to my CAD drawings?
A: Yes. Besides the regular standard chains, we produce non-standard and custom-design products to meet the specific technical requirements. In reality, a sizable portion of our production capacity is assigned to make non-standard products.
Q4: Can we inspect the goods before shipment?
A: Yes. You or your representative or any third-party inspection party assigned is allowed access to our facility and do the inspection.
Q5: What kind of payment method is acceptable for your mill?
A: We're flexible. We take T/T, L/C, or any other online payment methods so long as it's applicable for you.
Q6: What if I have any other questions?
A: Whenever in doubt, you're always encouraged to consult our sales associate any time – They will help you to your satisfaction.
| | |
| --- | --- |
| After-sales Service: | Supply |
| Warranty: | 1 Year |
| Certification: | ISO9001:2001 |
| Number of Row: | Single Row |
| Surface Treatment: | Zinc Plated, Polishing |
| Structure (for Chain): | Roller Chain |
Customization:

Available

|

Customized Request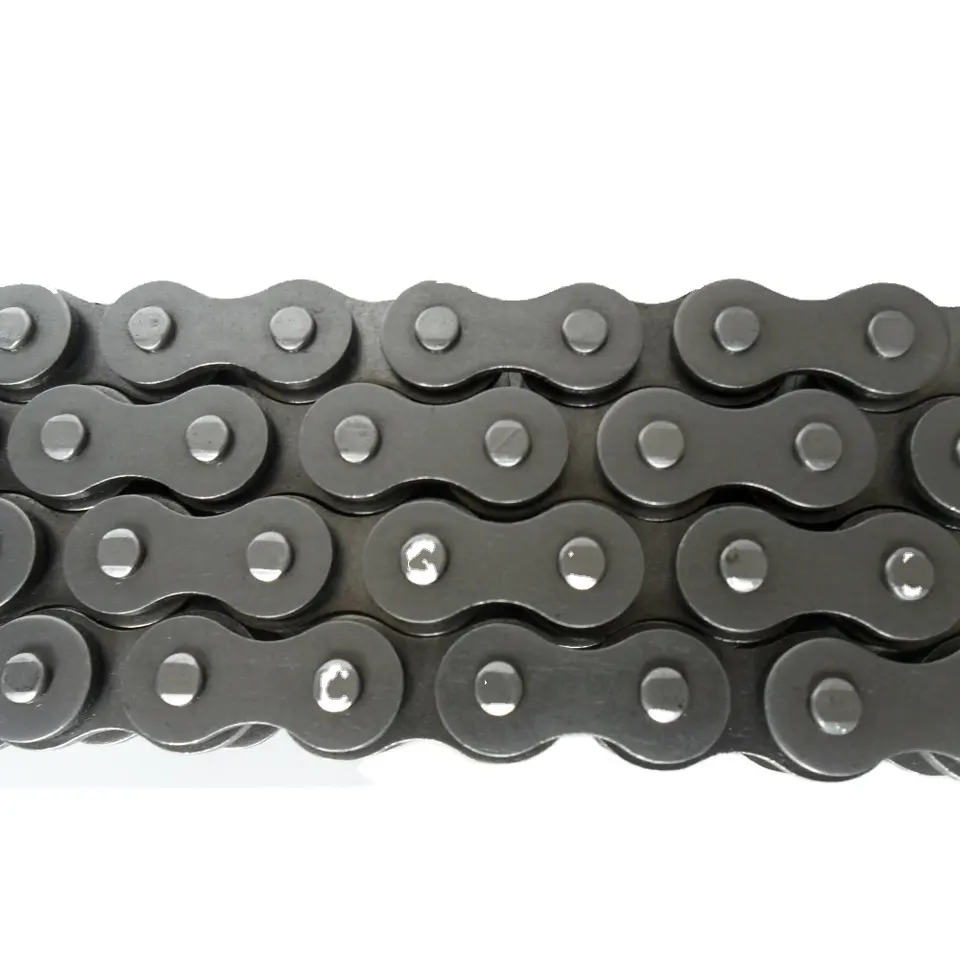 How do you troubleshoot common issues with motor chains?
Troubleshooting common issues with motor chains involves identifying the root cause of the problem and taking appropriate corrective actions. Here are some common issues that can occur with motor chains and the steps to troubleshoot them:
1. Chain slipping or jumping: If the motor chain slips or jumps on the sprockets, it can indicate insufficient tension, worn-out sprockets, or a damaged chain. Check the tension of the chain and adjust it according to the manufacturer's recommendations. Inspect the sprockets for signs of wear or damage and replace them if necessary. Additionally, examine the chain for any damaged or worn-out links and replace the chain if needed.
2. Excessive noise: Excessive noise from the motor chain can be caused by various factors such as misalignment, lack of lubrication, worn-out components, or improper tension. Inspect the chain for any misalignment issues and adjust the alignment if necessary. Ensure that the chain is properly lubricated using the recommended lubricant. Check for any worn-out or damaged components and replace them as needed. Adjust the chain tension to the proper specifications.
3. Chain binding or jamming: If the motor chain binds or jams during operation, it can be due to misalignment, debris accumulation, or insufficient lubrication. Check for any misalignment and adjust the alignment of the chain and sprockets if required. Clean any debris or foreign particles that may have accumulated on the chain or sprockets. Ensure proper lubrication of the chain to minimize friction and improve smooth operation.
4. Chain wear and elongation: Excessive chain wear and elongation can lead to poor performance and decreased efficiency. Regularly monitor the chain for signs of wear and measure its elongation using a chain wear gauge. If the wear exceeds the manufacturer's recommendations, it is advisable to replace the chain with a new one.
5. Insufficient lubrication: Inadequate lubrication can cause increased friction, wear, and premature failure of the motor chain. Check the lubrication system and ensure that the chain is properly lubricated with the recommended lubricant. Adjust the lubrication frequency or method if necessary to ensure optimal lubrication.
When troubleshooting motor chain issues, it is important to refer to the manufacturer's guidelines and recommendations. If the problem persists or if you are unsure about the appropriate troubleshooting steps, it is recommended to consult a professional or the chain manufacturer for further assistance.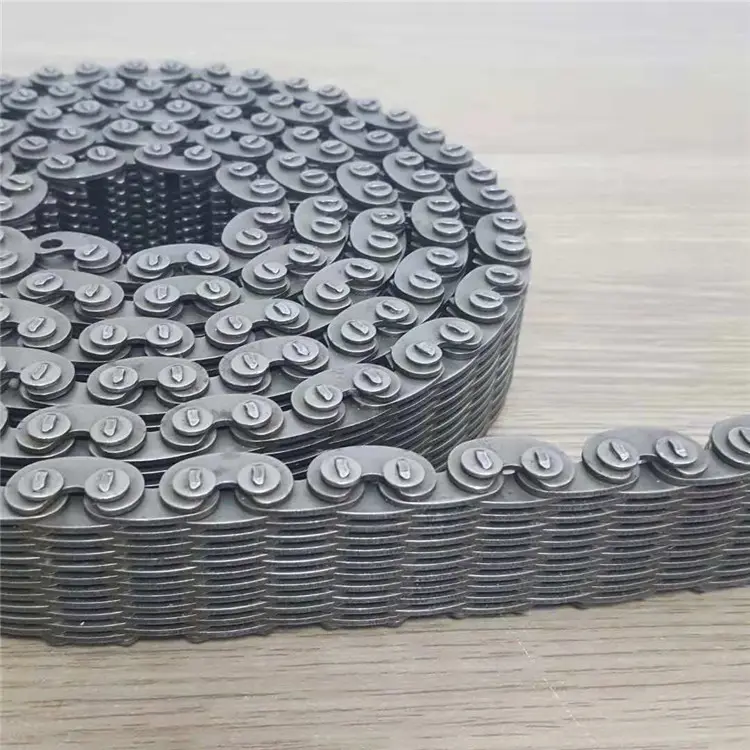 Can a motor chain handle heavy loads?
Yes, motor chains are designed to handle heavy loads in various applications. Here are some factors to consider:
1. Chain Strength: Motor chains are available in different strength ratings, typically measured in terms of their maximum allowable tension or breaking strength. It is important to select a motor chain with a strength rating suitable for the anticipated loads in your application. Chains with higher strength ratings can handle heavier loads.
2. Chain Material: Motor chains are commonly made from high-strength steel or alloy materials that provide excellent durability and load-bearing capacity. The choice of material depends on the specific application requirements, including the expected load, environmental conditions, and any regulatory standards.
3. Chain Design: Motor chains designed for heavy-load applications often have robust construction features to enhance their load-carrying capabilities. These may include larger pitch sizes, thicker plates, hardened components, and precision manufacturing. The design ensures that the chain can withstand the forces and stresses associated with heavy loads.
4. Lubrication: Proper lubrication is essential for motor chains handling heavy loads. It helps reduce friction and wear, ensuring smooth operation and extending the chain's service life. Adequate lubrication also prevents overheating and corrosion, which can negatively impact the chain's load-carrying capacity.
5. Sprocket Design: The sprockets that engage with the motor chain also play a crucial role in handling heavy loads. Sprockets should be designed to evenly distribute the load across the chain and provide reliable engagement. Robust and properly sized sprockets ensure that the chain can effectively transmit the heavy loads without excessive wear or failure.
When considering a motor chain for heavy-load applications, it is important to consult the manufacturer's specifications and guidelines. They can provide detailed information on the chain's load-carrying capacity, including factors such as tensile strength, working load limits, and recommended safety factors. Proper chain selection, regular maintenance, and adherence to load limitations are key to ensuring safe and efficient operation under heavy loads.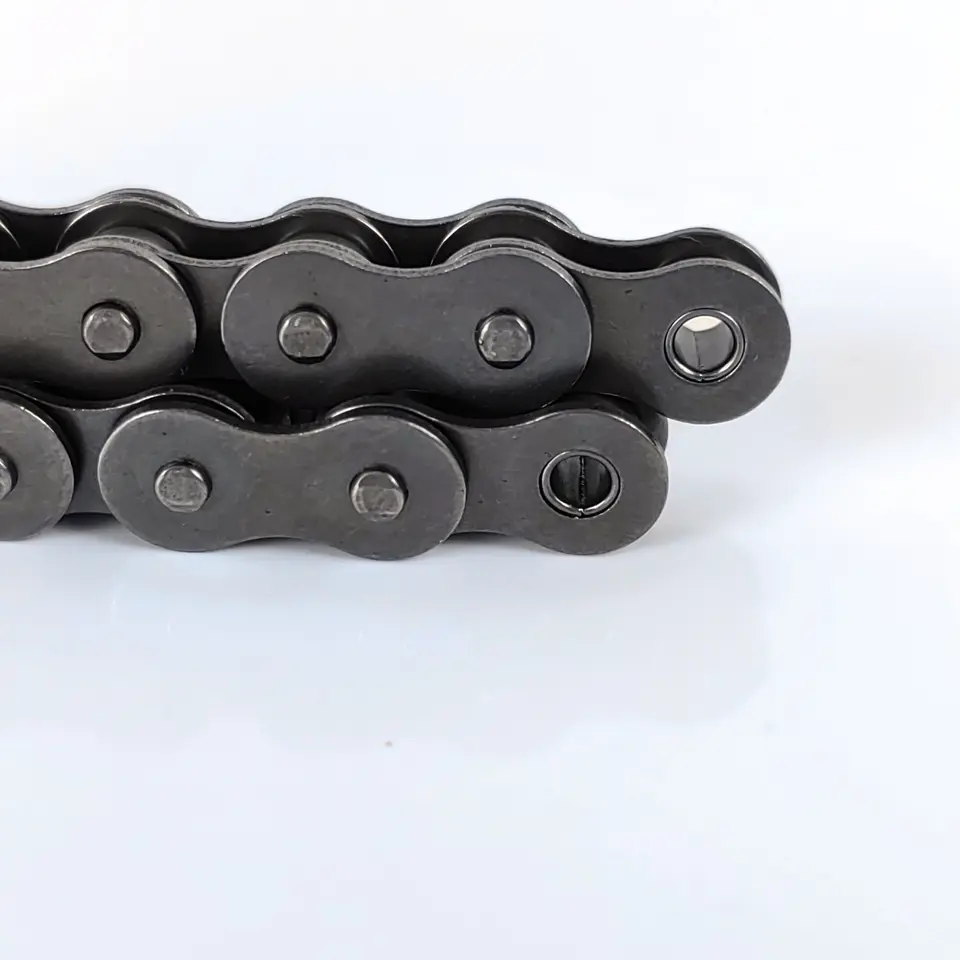 What are the different types of motor chains available?
Motor chains come in various types, each designed to meet specific requirements of different applications. Here are some common types of motor chains:
1. Roller Chains: Roller chains are the most common type of motor chain. They consist of inner and outer plates connected by rollers. These chains are known for their high strength, durability, and ability to handle heavy loads. Roller chains are widely used in industries such as automotive, industrial machinery, and agriculture.
2. Silent Chains: Silent chains, also known as inverted-tooth chains, feature tooth-shaped plates that engage with each other. They provide smooth and quiet operation, making them suitable for applications requiring low noise levels. Silent chains are commonly used in precision machinery, printing presses, and automotive timing systems.
3. Leaf Chains: Leaf chains have flat, interlocking plates connected by pins. They are primarily used in lifting and hoisting applications, such as forklifts and cranes. Leaf chains are known for their high tensile strength and resistance to fatigue.
4. Conveyor Chains: Conveyor chains are specifically designed for conveying materials in conveyor systems. They feature large, wide plates to support the load and provide smooth movement. Conveyor chains are used in industries such as mining, food processing, and packaging.
5. Timing Chains: Timing chains are used in engines to synchronize the rotation of the crankshaft and camshaft. They have precise tooth profiles that ensure accurate timing of valve operation. Timing chains are commonly found in automotive engines and other internal combustion engines.
6. Specialty Chains: There are also specialized motor chains designed for specific applications. Examples include escalator chains, bicycle chains, motorcycle chains, and marine chains.
Motor chains are available in different sizes, materials, and configurations to suit specific requirements. It is important to select the appropriate chain type based on factors such as load capacity, speed, environment, and application-specific needs.



editor by CX 2023-08-07