Product Description
1)Type
roller chain
2)Materials
A class steel 
3)Chain No.
428H-O
4)Warranty
above 30000KMs
5)Process
High speed impact, heat treatment, Pre-stretching and running
Four sides riveting, Lubricate with Grease
6)MOQ
500 Pcs
7)Supply Ability
100000 Meter/Meters per year
8)Tensile Strength/Hardness
standard or above
9)Delivery Time
within 30 days after receiving your 30% deposits
10)Payment Terms
L/C,T/T
11)Packing
chains packing in standard export carton, also can packing as your requirement
Our Services
Pre-sales:
1. OEM &ODM service
2. Any of your kind inquiry would be replied within 24 hours.
3. Complete product information will be offered
4. Free sample will be sent if you need .
5. Any other reasonable requirements as per requested
 
During production ,we provide:
1. Schedule of production
2. Mass production picture will offered
3. Any other reasonable requirements as per requested
 
Finish production:
1. Courier tracking number
2. Documents you need 
3. Protection of your sales area, ideas of design and all your private information.
FAQ:
Q1: Do you inspect the finished products?
A: Yes, each step of production and finished products will be carried out inspection by QC departing before shipping.
Q2: What's the warranty of your products?
A: Usually we guarantee one year after delivery date, but depending on the specified product.
Q3: Are you manufacturer or Trade Company?
A: Both we are. We have been in motorcycle parts for nearly 20 years.
Q4: How to visit factory?
A: Leave us a message, and we will pick you up by car for free.
Q5: Can you do custom logo on the chain?
A: Yes,we can do custom logos by molding. Need your Authorization Letter.
| | |
| --- | --- |
| Type: | Chain |
| Material: | Steel |
| Certification: | ISO9001:2001 |
| Number of Row: | Single Row |
| Surface Treatment: | Sand Blasting, Oiling |
| Transport Package: | Polybag + Color Box + Carton |
Samples:

US$ 0/Piece

1 Piece(Min.Order)

|
Request Sample
Customization:

Available

|

Customized Request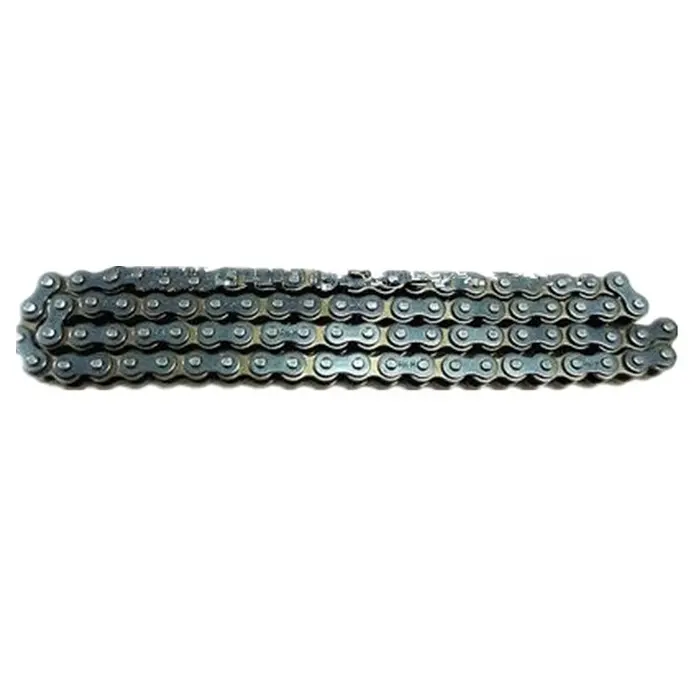 What are the signs of wear and tear in a motor chain?
Over time, a motor chain can experience wear and tear due to usage, environmental factors, and lack of proper maintenance. It's important to monitor the condition of the motor chain regularly to identify signs of wear and address them promptly. Here are some common signs of wear and tear in a motor chain:
1. Chain elongation: One of the most noticeable signs of wear in a motor chain is elongation. The chain may appear longer than its original length due to stretching and wear of the pins, bushings, and rollers. Excessive chain elongation can cause poor performance, increased noise, and affect the overall efficiency of the system.
2. Increased chain noise: As a motor chain wears, it can produce more noise during operation. Excessive noise can indicate worn-out or damaged components, such as pins, bushings, or rollers. It's important to investigate and address the source of the noise to prevent further damage and ensure smooth operation.
3. Chain slack or looseness: If the motor chain exhibits excessive slack or looseness, it may indicate wear and elongation. Proper tension is essential for the efficient transfer of power, and a loose chain can cause slippage and decreased performance.
4. Visible signs of damage: Inspect the motor chain visually for any visible signs of damage, such as broken links, cracked plates, or worn-out pins and bushings. These signs indicate significant wear and may require immediate attention or replacement of the chain.
5. Uneven wear: Uneven wear patterns on the chain's components, such as unevenly worn pins or bushings, can indicate misalignment or other issues. Identifying and addressing the cause of uneven wear is crucial to prevent further damage and ensure proper chain performance.
Regular inspection and maintenance can help identify these signs of wear and tear in a motor chain. If any of these signs are observed, it is recommended to consult a professional or the chain manufacturer for further evaluation and guidance on appropriate maintenance or replacement.
Can a motor chain be repaired if it gets damaged?
Yes, in some cases, a motor chain can be repaired if it gets damaged. However, the repairability of a motor chain depends on the extent and type of damage. Here are some common types of motor chain damage and their potential repair options:
1. Chain elongation: If the motor chain has experienced elongation due to wear or improper tension, it may be possible to adjust the tension or remove a damaged link to restore the chain's length. However, excessive elongation may indicate significant wear and require chain replacement.
2. Broken or damaged links: If a few links in the motor chain are broken or damaged, it may be possible to replace those specific links or repair them using chain repair tools or specialized techniques. However, if the damage is extensive or affects multiple links, it is generally more cost-effective to replace the entire chain.
3. Cracked or damaged plates: If the chain plates are cracked or significantly damaged, repair may not be feasible or advisable. Cracked plates compromise the chain's strength and integrity, and replacing the chain is usually the recommended solution.
4. Damaged pins or bushings: If the pins or bushings in the motor chain are damaged or worn out, they can sometimes be replaced individually using appropriate tools and techniques. However, if the damage is extensive or affects multiple pins or bushings, it is best to replace the chain.
It's important to note that attempting repairs on a motor chain requires knowledge and expertise in chain repair techniques. It is recommended to consult a professional or the chain manufacturer for guidance on whether a repair is possible and advisable based on the specific damage and chain type.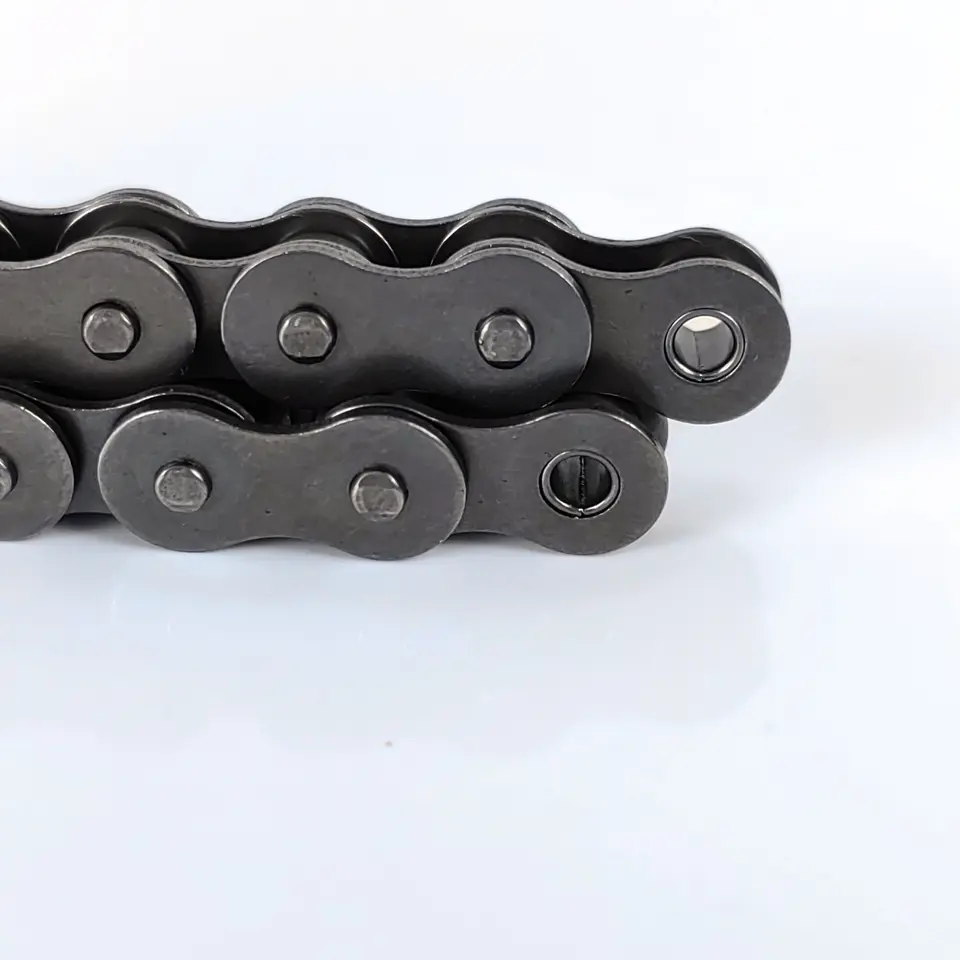 What are the different types of motor chains available?
Motor chains come in various types, each designed to meet specific requirements of different applications. Here are some common types of motor chains:
1. Roller Chains: Roller chains are the most common type of motor chain. They consist of inner and outer plates connected by rollers. These chains are known for their high strength, durability, and ability to handle heavy loads. Roller chains are widely used in industries such as automotive, industrial machinery, and agriculture.
2. Silent Chains: Silent chains, also known as inverted-tooth chains, feature tooth-shaped plates that engage with each other. They provide smooth and quiet operation, making them suitable for applications requiring low noise levels. Silent chains are commonly used in precision machinery, printing presses, and automotive timing systems.
3. Leaf Chains: Leaf chains have flat, interlocking plates connected by pins. They are primarily used in lifting and hoisting applications, such as forklifts and cranes. Leaf chains are known for their high tensile strength and resistance to fatigue.
4. Conveyor Chains: Conveyor chains are specifically designed for conveying materials in conveyor systems. They feature large, wide plates to support the load and provide smooth movement. Conveyor chains are used in industries such as mining, food processing, and packaging.
5. Timing Chains: Timing chains are used in engines to synchronize the rotation of the crankshaft and camshaft. They have precise tooth profiles that ensure accurate timing of valve operation. Timing chains are commonly found in automotive engines and other internal combustion engines.
6. Specialty Chains: There are also specialized motor chains designed for specific applications. Examples include escalator chains, bicycle chains, motorcycle chains, and marine chains.
Motor chains are available in different sizes, materials, and configurations to suit specific requirements. It is important to select the appropriate chain type based on factors such as load capacity, speed, environment, and application-specific needs.



editor by CX 2023-08-04